SEO
DIFFERENCE BETWEEN WORDPRESS AND OTHER CONTENT MANAGEMENT PLATFORMS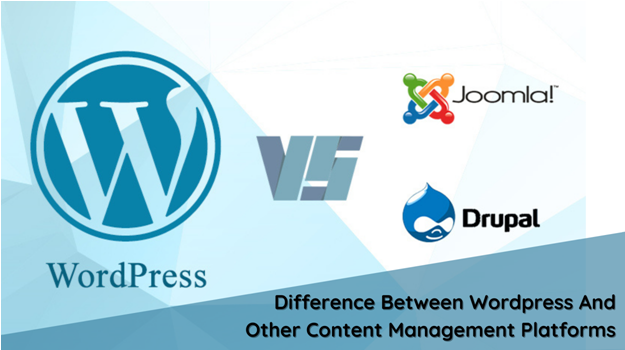 WordPress is a Content Management System (CMS); today, more than 40% of websites are powered by WordPress. There are many CMS platforms today, which has increased the competition between the CMS platforms. But many big brands still trust WordPress only. You can hire WordPress development services to make the best use of WordPress.
WordPress is a simple and robust content management system. With the use of WordPress, website creation becomes easy. It also aids in SaaS systems, multisite platforms, and server infrastructure.
This post aims to make a detailed comparison between WordPress and other content management platforms, but before that, it is important to know what is a content management system.
What is a Content Management System?
A Content Management System is a platform for publishing and managing material and presenting it as pages and articles. You may host them on various servers, including hosting plans and your own personal servers.
By using a CMS, you get full control over your website. You can even increase the website's functionality through plugins, extensions, themes, templates, etc.
Now let's see the difference between WordPress and other platforms.
Comparison between WordPress and other content management platforms
WordPress vs. Drupal
Drupal is a PHP-based free and open-source web content management system licensed under the GNU General Public License.
Comparison between WordPress and Drupal:
Specialty: WordPress is known for its ease of use, customization features, and its community support. At the same time, Drupal is famous for enhanced security and developer-friendly features.
Ease of use: In ease of use, WordPress wins the race because understanding and using Drupal is difficult compared to WordPress.
Security: As far as security is concerned, Drupal has the edge over WordPress. Drupal is rich with enterprise-level security, while WordPress may face some problems in offering security.
Website creation: WordPress is primarily used to create websites with a lot of information, such as blogs and news sites, but Drupal is better suited to complicated and varied sites, such as online stores.
WordPress vs. HubSpot
HubSpot CMS allows designing, managing, and modifying the website without writing the code from scratch.
Comparison between WordPress and HubSpot:
Ease of use:HubSpot and WordPress are both easy-to-use platforms, and so they are both popular.
SEO-Optimized: Nowadays, SEO is very important for websites. So, if we talk about SEO, both are SEO-friendly platforms; however, you get SEO tools installed in HubSpot, while for WordPress, you need to purchase the plugins differently.
Cost: If we talk about the cost of both platforms, then WordPress is a cost-effective solution compared to HubSpot. You can hire custom WordPress developmentfor developing a website catered to your needs.
Conversions: When you have a website, you also want to get more conversions from the site. So, for that purpose, you can go with any of the above platforms because both offer amazing tools that help in increasing conversions.
Design:  If the design of the website is your priority, you must choose WordPress because it offers you a lot of customizations, which is not possible by using HubSpot. Thus, developers may find WordPress a better option compared to HubSpot.
WordPress vs. Wix
Wix is a website builder that helps in building websites without having high technical knowledge.
Comparison between WordPress and Wix:
Design & Flexibility: Wix offers more than one thousand free templates which are attractive and modern. WordPress also provides a lot of themes for your website. So, both are good as far as design is concerned.
Ease of use: We have seen how WordPress leads in ease of use when compared to other platforms, but when compared to Wix, then it is a little behind Wix. With Wix, one can build a website just with drag & drop.
SEO: When it comes to building SEO-friendly websites, you can trust both of them; however, WordPress has a little advantage over Wix. You can hire WordPress developerto develop your website by the use of WordPress.
Blogging: If you want to build a website that is suitable for blogging, then you must choose WordPress because it offers all the features that are suitable for blogging, like tags, categories, RSS, etc.
WordPress vs PrestaShop
PrestaShop is an advanced and feature-rich platform for building eCommerce websites.
Comparison between WordPress and PrestaShop:
SEO: If SEO is concerned, both platforms offer the best functionalities and tools that help in website ranking and visibility.
Ease of use: In ease of use, WordPress is much ahead then PrestaShop; WordPress can even be used by beginners, which is not the case with PrestaShop.
Installation: WordPress can be installed within five minutes, while the installation of PrestaShop may take 15 minutes. So, the installation of WordPress is quick & easy compared to PrestaShop.
Themes: If you are looking for a platform offering a wide range of themes, you must definitely go with WordPress. It provides more than 7000 free themes and more than 11,000 premium themes which are much more than PrestaShop.
WordPress vs. Joomla
Joomla is a robust CMS that aids in building websites and applications.
Comparison between WordPress and Joomla:
Ease of use: Joomla is difficult to use compared to WordPress; for using Joomla, you require good coding experience.
Themes & plugins: Both WordPress and Joomla offer a wide range of themes and plugins for improving the website.
SEO: In SEO, WordPress leads the race because the plugins of WordPress are highly optimized with SEO, which is not the case with Joomla.
Support: You will get better support from the team of Joomla compared to WordPress.
Conclusion
At last, we would say that all the platforms mentioned in this post are amazingly good; however, one may win over the other in particular features. We have given a detailed comparison of platforms; now, you can choose the one that suits you the most.