Travel
How To Welcome and Enjoy A Christmas in Vietnam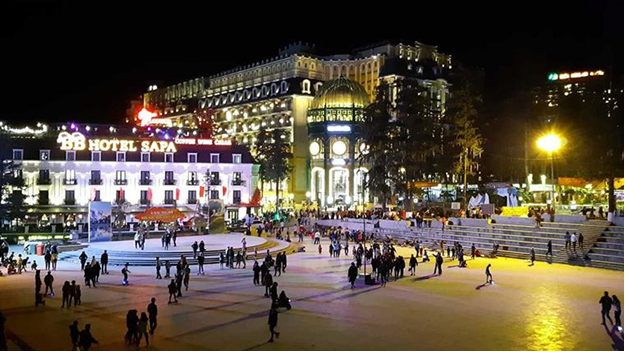 In Vietnam, Christmas Day is not only a holiday for Christians but also a popular occasion for many people to have fun and give presents to loved ones. Every corner on the street and houses are decorated with shimmering lights and pine trees, creating a bustling Christmas atmosphere everywhere. There are plenty of places to visit in Vietnam to welcome the upcoming Christmas from Sapa, Hanoi, Danang to Ho Chi Minh City.  Let's discover more details of top things to do and see on Christmas day with Vietnamtrips on the post below.
1 – Sapa
Christmas in Sapa happens in the winter when the entire scenery becomes incredibly spectacular with the curtain of fog and the gentle stretching white carpets of snow. The temperature can drop to 3°C, even 0°C. Therefore, if visiting Sapa during this season, particularly at Christmas, you should be well-prepared with thick, warm clothes, boots, water-resistant and anti-slip boots, wool hats and warm towels to keep your body warm.
Sapa Stone Church
Location: No.38 Cau May Alley, Sapa Town
Prayer times:
– Mondays to Saturdays: 7pm
– Sundays: 9am, 7pm
Christmas in Sapa is very distinctive and different from the rest of the country. The cold weather and smog makes the town look like a "European miniature ". Sapa Stone Church features Roman Gothic architecture with colored glass windows which is resplendent during Christmas Eve. Visiting the Stone Church, you have a chance to join with parishioners to pray for yourself and beloved, take photos, and enjoy soothing moments inside the church.
Besides Sapa Stone Church, it is advisable for those who are in love with breathtaking adventures and discoveries to conquer Fansipan Peak at Christmas, which is almost covered with a blanket of snow. Therefore, you have a chance to enjoy the fantastic snow falling from the height of 3,143m, which is an impressive and amazing experience in your trip to Vietnam.
Other places highly recommended for this special occasion are breathtaking Muong Hoa valley, captivating Bac Ha highland, and charming Cat Cat village, where you are able to admire stunning views and purchase local items for your Christmas.
2 – Hanoi
Source: chaohanoi
December is one of the coldest and driest months in the year in Hanoi with an average temperature of 18°C to 19°C, sometimes falling to 11°C at night, the average humidity of 67%. The day time is short, and the nightfall comes earlier. The rainfall is low but you still feel the biting cold; therefore, make sure to keep warm before hanging out, especially for entertainment activities during Christmas Eve.
St. Joseph's Cathedral
Location: No.40 Nha Chung Street, Hang Trong Ward, Hoan Kiem District, Hanoi – about 300m from Hoan Kiem Lake
Prayer times:
– Week days: 5:30am – 6:15pm
– Saturdays: 6pm
– Sundays: 5am, 7am, 9am, 4pm, 6pm, 8pm
At Christmas, the church becomes more splendid, decorated with sparkling lights, especially the most glorious 6-meter pine tree, which catches the attention of hundreds of people. This is a must-visit destination for check-in and hanging out on Christmas Eve.
Hang Ma Street
Every Christmas Hang Ma Street is covered with colorful decorative items such as Tree topper, ornaments,  Christmas wreath, Santa Claus figures, string lights, tinsel, etc., all of which are exhibited along the street, which is incredibly eye-catching. Hang Ma Street is not only the place for shopping but also check-in and have fun, enjoying the vibrant Christmas atmosphere.
Hoan Kiem Lake Pedestrian Street
When Christmas comes, the pedestrian street appears more sparkling thanks to glittering lights everywhere. There are a myriad of entertainment activities during this special occasion such as traditional folk games, musical performances, etc. Some suggested places for check in are Ham Ca Map building, Trang Tien Street, and the gate of VNPT Hanoi post office. If you want to find quiet places to enjoy soothing moments and sip a cup of hot coffee or tea, a corner of cafes in Hanoi Old Quarter is an ideal option. It is the best if you can celebrate Christmas with your lover, strolling around the crowded street and sampling specialties, which would be an unforgettable memory in a foreign country.
3 – Danang city
Source: vncdn
The weather in Danang city in December is relatively similar to that in Autumn in Hanoi. Fog surrounds the houses in the early morning, and the sun shines all day but it is not too hot, sometimes there may be some sudden rain. In the evening, it starts to get chilly but not too cold; hence, you can still wear comfortable clothes to go out, especially for enjoying the atmosphere of Christmas.
Ba Na Hills
Location: Hoa Ninh Commune, Hoa Vang District, Danang City
Ba Na Hill, the top amusement park in Vietnam with European architecture and multiple fantastic games, must be in the list of destinations for your Christmas. It is attractively decorated with the white color of artificial snow, the golden lights, the shining huge pine trees with many Christmas decorative items, and Santa Claus riding reindeers. The ringing of the bells from the church with Christmas songs echoing in the fanciful space creates an impressive atmosphere, making you feel like you got lost in the middle of a wonderful European world. Every year, Ba Na Hill celebrates Christmas with many musical shows such as dance, magic tricks, circus, etc., which are meticulously choreographed, bringing fresh emotions to audiences.
Aside from Ba Na Hills, Dragon Bridge, with the image of the dragon in shimmering lights, Han River Bridge, and Sky36 Novotel on the top floor are ideal places for you to check-in, immerse in a nice atmosphere, and enjoy excellent food and beverages.
4 – Ho Chi Minh city

Source: Tuoitrenews
December is the first month of the dry season when Ho Chi Minh city is characterized by the warm sunny days, which is totally different from the weather in the Northern provinces of Vietnam. The temperature varies from 22°C to 33°C, the humidity is lower than 77% and the average rainfall is about 50mm.
Notre-Dame Cathedral
Location: No.01 Cong Xa Paris Street, Ben Nghe Ward, District 1
Prayer times:
– Mondays to Saturdays: 5:30am, 5:30pm
– Sundays: 5:30am, 6:45am, 8am, 9:30am, 4pm, 5:15pm, 6:30pm
Like St. Joseph's Cathedral, Notre-Dame Cathedral is also a should-not-miss place to welcome the Christmas. The streets are shimmering with lights and crowded space, where you can feel the lively and festive atmosphere of Christmas. Coming to the church on Christmas, you are able to freely take beautiful photos, enjoy a cup of rustic Bet coffee or street food such as Banh Trang Nuong (Vietnamese pizza), grilled corn, and grilled potato, etc.
Tan Dinh church
Tan Dinh church was constructed in 1870, characterized by the Gothic architectural style, outstanding with its pink color. During Christmas, the 150-year-old church is gloriously decorated with shimmering pink lights at the main space and flashing lights spreading across the spacious campus of the church. Inside the church is also embellished with familiar Christmas decorative items such as splendid stars, bells, and pine trees, etc. There is a performance of prayer and Christmas Eve Mass on the night of December 24th. The sanctuary area is splendidly decorated with a large glittering pine tree behind the statue of Jesus. Under the statue of Jesus with arms outstretched at the back of the church, there is a miniature cave, inside which is a statue of the Baby Jesus and the Virgin Mary (or the mother of Jesus, Perpetual virginity of Mary), surrounded by the statue of three kings, some angels, and donkeys. In front of the function rooms are large star-shaped LED lights, a symbol of the Christmas season, which represents God's miracles. During Christmas Eve, many activities are held such as concerts, hymn singing, and many Christmas-themed musical performances by the choir, which attracts many parishioners and tourists.
The old apartment building at 42 Nguyen Hue Street
The apartment gathers numerous cafes with gorgeous corners, making the young fall in love  right from the very first visit. On Christmas Eve, you can choose a quiet cafe which is elegantly decorated such as The Letter Coffee characterized by deep yellow color, making it like a miniature of Hoi An Ancient Town. Thinker&Dreamer Coffee, featuring a warm and narrow space and Boo Coffee are adorable with small decorative Christmas items shimmering in lights, which can warm your heart.
Snowtown Christmas is a great option for your Christmas where you can immerse yourself in pure white snow in a small and have fun inside the campus of the town including birthday party zone, game zone, the Snowland zone, and virtual interactive game zone.
Other should-go places are Bitexco Tower located next to the busy Nguyen Hue pedestrian street, Aeon Mall providing an ideal scene for magical outdoor selfies, Takashimaya shopping mall attracting many people by impressive decoration and a diversity of entertainment activities, etc.
Visiting Vietnam on this special occasion will really amaze you with multiple destinations where you can sense the Christmas atmosphere like you are in Europe.