Game
Innovations Brought To The Gaming Industry By Artificial Intelligence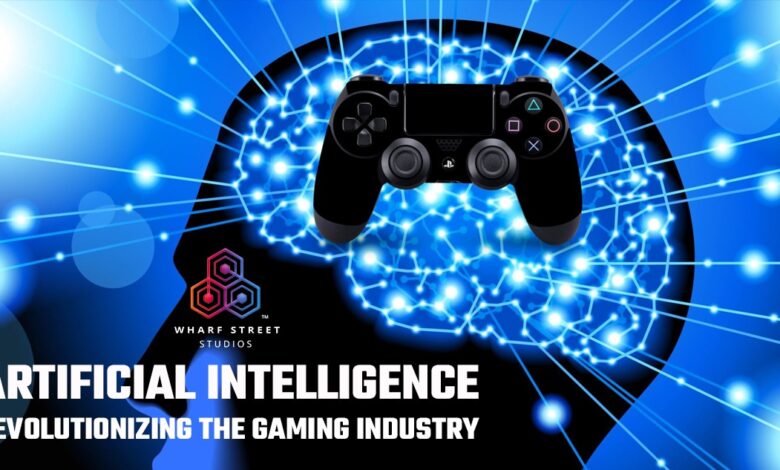 The gaming industry had its inception in the 1950s, has only grown to a market of 173.70 billion USD in 2020, and it is only expected to rise in the year to come. Due to lockdown worldwide, people staying home have turned to game platforms for entertainment, thus attracting hundreds and thousands of new users each day in online traffic. Companies like Microsoft have reported a 130% increase in multiplayer engagement.
Artificial Intelligence plays a significant role in modern-day technology. Complex formulas and AI systems dominate the gaming industry. Since the dawn of technology, artificial intelligence has been used by game developers. All types of games like racing car games, shooting games or strategy games are powered by AI. AI aims to furnish realistic gaming experiences to players on virtual platforms.
AI and game development have been processed over the years. Improving algorithms have been transforming games to look more realistic to players. Artificial environments are created using virtual reality, mixed reality, and augmented reality, taking the gaming industry to the next level. Due to the rise of this industry, one can develop a career in the same by upgrading themselves in AI courses online to stay ahead of the game.
The innovations brought in the gaming industry by artificial intelligence are:
Making it more real – There is immense development in physics-based simulations, 3D visuals, high definition images, high-quality visuals, virtual reality, and augmented reality in games. Game developers have been able to incorporate visually appealing games, trigger intellectual strategy-based algorithms for better gaming experiences, which was a distant dream a decade ago. Apart from great illustrations, the key is to make games seem real-time, and AI delivers to do a fantastic job in this field. It calls for creating codes with games to interpret your moves, strategies and reach your in-game activities.
Mobile games – Due to improvement in device processing, it has enabled developers to create interactive and embedded games. Gaming developers use machine learning and smart algorithms to create smart games with power limits suitable for mobile devices. Over the last 5 years, there has been a paradigm shift in the visual appearances of the games being published over different platforms. The intelligence in the creation of these games has increased. However, there is huge scope and potential for mobile games to grow and improve compared to desktop counterparts. AI is revolutionizing the gaming industry at jet speed.
Smarter games – The prime objective of game developers in the future is to build stronger frameworks within these games. Games are now played with AI-based voice intelligence, thus penetrating the scope of a variety of games. The gaming industry is also evolving by tracking gamers' behavior, thus self-learning these ideas to make dynamic design developments. Games are getting smarter by reacting to the behavior of the gamer, planning the steps and action. Thus, the overall gaming experience is so fun and engaging that many more gamers join this field.
Development & programming – AI uses extensive coding and algorithms to bring characters into existence to perform real-time actions responding to intelligent behavior. AI requires scores of data to work on to be able to give an output of specific stimuli. This data is used in AI to engineer virtual gaming environments that involve scenes, actions, plans, and motives assigned to the characters in your game, hence making it increasingly realistic and natural. Games are bracketed in levels as players pay to create a sense of achievement for the user to pass from different stages and earn reward points to crack each level. Thus, AI is a highly technical concept that most AI managers want to develop since there is huge scope to grow. A course on AI for managers could also be helpful for the managing team lead.
Gaming developer skills – There is a huge demand to scale up in this industry; hence, AI managers are aware that it is time to get trained using AI courses online. It has been identified that AI in games is fast changing the rules in which games are created. The AlphaGo computer program algorithms help gaming developers worldwide surpass the world's best human players. Learning this skill and coming with cutting-edge technology is the need of the hour to thrive, grow and pioneer innovations.
Gaming service – Many gaming websites use artificial intelligence to improve playing experiences for users and get them hooked to playing their games. They use chatbots and other AI tools to discover useful information and understand users' needs to build better gaming services.
When a game is designed, it is kept in mind to give an experiential gaming experience. Predictable HIs are used to know how the user feels when they get to a point in the game. AI is not just a game-playing experience. It is more so part of a game-making experience. AI generates game assets that relieve developers from a detailed drawing of each element in the game visuals. All of that work is offloaded to computers using procedural content generation, a well-known standard practice in the gaming industry. Some key tools used in the gaming industry that could shape its future are:
Virtual reality
Augmented reality
Cloud gaming services
Artificial intelligence
Meta verse
High graphics
Games are all about creating a fun and compelling experience for gamers such that they come back to you, which is a service of artificial intelligence. The gaming industry is bigger than the movies and sports industry combined. It is set to become more mainstream in the days to come. With the increased usage of smartphones, clouds, consoles, the gaming market shows high potential in the future.
If the gaming world interests you, school yourself using AI courses online as part of your effort to stay ahead of the curve and recreate this constantly improving and developing field. Great Learning has some of the best AI courses for both beginner and expert level learners. It would be a great way to kickstart your career in AI.