Game
Nevada as a Major Gambling Tourist Destination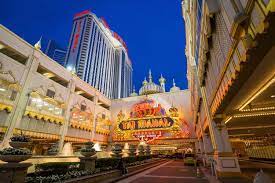 Gambling as a form of entertainment has been around for ages. Casino games, in particular, have been prevalent among millions of players globally. Today, many countries are more accepting of gambling activities on their shores. And while we can cite several reasons for this, one significant one is its potential to promote a country's tourism.
Gambling-friendly locations, such as Nevada, are saturated with physical casinos. These institutions offer players all their favorite games and the chance to win big. However, some countries are not as accepting as others. In this case, players must travel out to get the gambling experience they desire. Hence, today we explore gambling in The Silver State and how it has impacted tourism.
What Is Gambling Tourism
Gambling tourism refers to a case whereby players travel to gambling-friendly locations to gamble. However, aside from gambling, this form of tourism also covers the hospitality sector. Hence, casinos that foster tourism offer both casino games and resort facilities. Institutions such as this have been a driving force for the tourism industry in casino-friendly states.
Evidently, this tourism form is an effective way for players to experience the casino feel. Nonetheless, states with quality casinos also take advantage of gambling tourism. One significant benefit is revenue generation.
Several locations have been recognized as gambling tourism destinations. However, Nevada remains the top gambling destination in the world.
Gambling In Nevada
Nevada has the most significant gambling industry in the United States and North America. This is because it is one of the first US states to legalize all forms of gambling. Today, the state is populated with over 300 luxurious physical casinos. The Nevada gambling market includes some of the world's top online casino providers.
Most of Nevada's renowned casinos sit in Las Vegas as part of resorts incorporating hotels, malls, and spas. This strategic location makes it a frequent destination for over 40 million tourists in the state.
Needless to say, these casinos offer tons of entertaining games to players, from baccarat to craps and roulette. Across different locations in the US, poker remains the most popular casino game. As a result, the state houses numerous poker rooms and hosts annual tournaments. A list of some of the best poker tournament series held annually in Nevada include;
The World Series of Poker
Weekend Events at the Wynn/ Encore
Caesars Palace Daily Events
Venetian Deepstack Extravaganza
South Point Saturdays
Gambling tourism is not only limited to brick-and-mortar casinos. Some players adopt a digital nomadic lifestyle and engage in online casinos. Most states with lax gambling laws also permit online gambling. And as such, games such as online poker gather players from different locations worldwide.
Nevada is one of the few states to allow online poker. All poker sites are regulated by the Nevada Gaming Commission and Gaming Control Board. As such, aside from traditional poker rooms, Nevada online poker sites also impact the state's tourism.
Benefits Of Gambling Tourism
Evidently, Nevada has been lax on gambling for a very long time. Yet, it became one of the first locations to recognize the potential of gambling tourism. Over time, the state has developed into a significant hub featuring quality hotels, malls, spas, and the best casinos.
Over time, gambling tourism has gained massive popularity for the following reasons.
It Offers The Best Of Both Gambling And Traveling
Nevada has invested in state-of-the-art casino gaming and tourism facilities. This makes the state a popular tourist attraction. Tourists get the best of both worlds by traveling and having fun gambling with these facilities.
The government has also benefited from these investments. Nevada's tourism and gambling industry took a hit following the COVID pandemic. However, it has come roaring back, generating $1.23 billion in the second quarter of 2021.
A New Experience
Poker is one of the most popular casino games in the United States. The opportunity to make money while engaging in your favorite game continues to appeal to players. However, not every state has legalized poker operations within their shores.
As a result, gambling tourism offers players a new experience as regards gambling. Some top poker tournaments also appeal to many, including professional players. These players prefer to travel worldwide and showcase their skills while winning real money.
In Nevada, different tour companies have also included casino tours as part of their packages. This offers a more beneficial experience to players.
Opportunity to Meet New People
Poker is a game of skill, and players only improve when they consistently square off with better players. Professional players also travel to these locations in search of a match. Experiences like this are significant reasons for poker tournaments that attract massive numbers. As players travel and play, they gain knowledge and get better at the game.
Impact on the Economy
A state's economy comprises different sectors, from industrial to manufacturing, among others. Gambling tourism has an enormous impact on other sectors of the economy. The hospitality sector, in particular, gains massively from gambling tourism.
In Nevada, hotels, spas, malls, and restaurants have all flourished with a boom in gambling tourism. Tourists' demand for better facilities has also impacted the real estate and industrial sectors.
Over time, there continues to be a rise in the influx of tourists in the state. And as this happens, residents benefit from the employment opportunities created by gambling tourism.
Conclusion
Gambling tourism is quickly on the rise. And this is a result of the experience it offers all gamblers and travelers. Casinos will always remain a valid option as people consider making money in their travels.
In truth, poker and other casino games should not be the sole attraction for tourism growth. Aspiring states have to find a way to integrate gambling into their tourism sector.
As more tourists are getting involved in gambling, traveling for the sole purpose of gambling has become routine. The gambling tourism industry has become very popular. And with poker restrictions in different locations, the industry will only continue to rise.