Home
Setting Up Your New Home: Here Are 10 Things You Need to Consider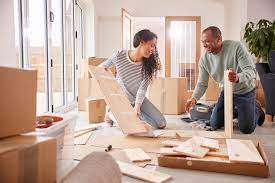 After a long day at work, you're probably itching to get home and relax. But before you do, there are a few things that need to be taken care of.
When you first move into your new home, it can be an overwhelming experience. From unpacking the boxes to asking around for recommendations on local plumbers, home services providers, and more, there are a lot of little details that need to be thought about.
And while they might not feel like they're important right now, they will eventually become so.
That's why it's important to take time now and think about what kind of future you want with your new home instead of worrying about it later.
Whether you're renting or buying your first house, here are 10 things that you need to consider before moving in as well as tips on how to make them happen:
Important Things to Do When Setting Up Your New Home
Child/Pet Proof
If you have two-legged or four-legged children, you may want to think about the most immediate steps to protect them from accidents and to protect your home from them.
Cover outlets and determine which spaces you want to be off-limits.
One thing many homeowners often don't think of is knob protectors for the stovetop. There are many stories of house fires started by the family dog trying to get to the box of pizza left on top of the stove!
Utilities
Before you move in, make sure to call all the utility companies like electric, water, gas, heating and cooling specialists, phone, and internet.
Having them ready and waiting means you can walk through and make sure everything is working properly before unloading all your belongings.
Unless you were told it's automatic, it's not a bad idea to give waste management a call and make sure you're all set for garbage pick-up as well.
Where's Your Fuse Box? Water Shut off?
Emergencies happen all the time.
Some of the first things you'll want to discover are how to quickly handle emergencies in your new home.
Find out where your fuse box is located to handle electrical issues, whether to turn it back on because you blew a circuit or because you need to turn one off to wire in a new light fixture.
Want to update your faucet in the kitchen? Is the pipe under the bathroom sink leaking? You won't always want to wait for the plumber to show up before dealing with the water. Track down where the main water shut-off is for the house.
Deep Clean
You have no idea what can be hiding in the house and what the habits were of the previous occupants.
Start at the top and work your way down before moving anything into the home. Make sure to thoroughly clean the appliances, including underneath and behind the refrigerator.
Consider checking and changing the filter on your furnace to ensure it works properly and efficiently.
Repairs?
Unless it's a brand-new build, there's a high chance for some necessary repairs.
Walk through your new home and check for any repairs. Consider organizing this list into things that should be done immediately and those that can wait until later.
If you got a home inspection, you should have a list of repairs needed already.
Change Your Locks
One of the top things that security professionals do in their own homes is change the locks.
You never know who out there has a key to get in.
Peace of mind is always worth a little investment.
Meet Your Neighbors
Consider approaching your neighbors right when you move in. It's less awkward and daunting when you're brand new to the area.
Gain information about your community and even preferred local services like locksmiths to change your locks or a plumber to fix that leaky sink.
Establishing a relationship with your neighbors means you're more likely to watch out for them and they are more likely to watch your property as well. A tight community is a secure community.
Check Your Fire Safety
Do you know where your smoke detectors are? Do they have fresh batteries? Are they connected to a larger system like smart home devices or a security system?
How about carbon monoxide detectors?
These are all important questions you'll want to answer when you're setting up your new home.
Fully functioning and well place smoke detectors are the least expensive way to protect your family and home from a fire.
Emergency Response Plan
You should have a plan of action in case of an emergency.
These plans are specific to the home you're living in, so they need to be adjusted as a family when you've moved into a new home.
Make sure everyone clearly understands the escape plan for any disaster that might occur including tornados, fire, earthquakes, and floods.
Consider investing in reflective stickers to place on door frames and in windows so emergency crews can easily determine what people and pets are potentially in the house.
Consider a Security System
Smith Thompson offers professionally installed security systems with excellent guarantees and 24/7 monitoring.
Or you can install your own DIY security system.
Either way, securing your windows, doors, and property is one of the ways to decrease the stress involved in owning a home.
A security system significantly decreases the chances of a home break-in and loss of property due to fire.
Final Thoughts
As you start to plan your move into a new home, it's important to take stock of the situation and make sure you're making the right decision for all of your family's needs.
The more you know about your home before you move in, the better decisions you'll be able to make.
But once you see how simple it can be, it will feel natural and you'll wonder how you ever lived without a home of your own.
While you might think you're doing everything right, there are still a few things you should take into account when setting up your home. The most important thing to remember is that it's never too early to plan for your home.
Visit for more article : forbesblog.org