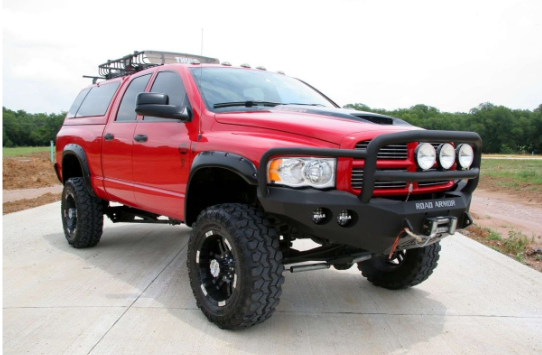 Installing a new bumper is the perfect way to save some cash. It requires basic tools and some extra time. But there are a few key steps that should be taken when deciding to upgrade the look functionality of your pickup. Our friends at BumperStock.com have created a quick guide to help make the process that much easier. 
Get the right bumper
Sounds easy, right? You'd be surprised how many get a custom bumper series for a completely different model. If you have a Ram 2500, for example. Make sure that it is made for that specific model. Luckily, Road Armor makes each series fit the vehicle perfectly. Remember, there isn't a one-size-fits-all bumper. Get one that's made for your truck, and your truck only.
Remove the Old Bumper
Start off by removing the old bumper. If it is an older model, a bit of penetrating oil the night before will make your life much easier. Depending on the condition, you might have the hack up the old one to safely remove it. At the very least, be prepared to cut the old mounting hardware. 
Prep the Work Area
Now that the hard work is done, get the frame ready to accept your new bumper. Again, depending on the condition, you might have to work a little harder to get everything prepped. Keep in mind that this step only has to be done once, so a few extra minutes now will ensure a proper fit for years to come.
Having a newer truck may only require you to simply wash up the dirt and mud that may have gotten into the nooks and crannies. Whereas some older models may require some additional elbow grease. Sanding and painting may add hours or days to the entire process. Make sure you keep that in mind.
Install the New Bumper
This is where the fun begins. All of the hard work and endless hours you put in the bumper has finally paid off. If the previous steps have been followed, installing your new bumper will be a breeze. 
Companies such as Fab Fours ensure each product that leaves their factory gates will fit perfectly. Close attention to detail is what helps them remain at the top of the food chain. No matter if you want to weld the bumper on for a more permanent fit or simply bolt it on so that it can be replaced at a later date, high-end bumpers should mount perfectly.
Final Words
So there you have it, the top tips when it comes to installing a new bumper. The excitement of a new bumper can make you want to start ripping everything off. But a little prep time is invaluable. 
We hope these instructions on how to install a new truck bumper proved helpful and helped give you some new ideas. Be sure to follow us for more informative posts such as this one.