Game
10 Of The Largest Casinos In The World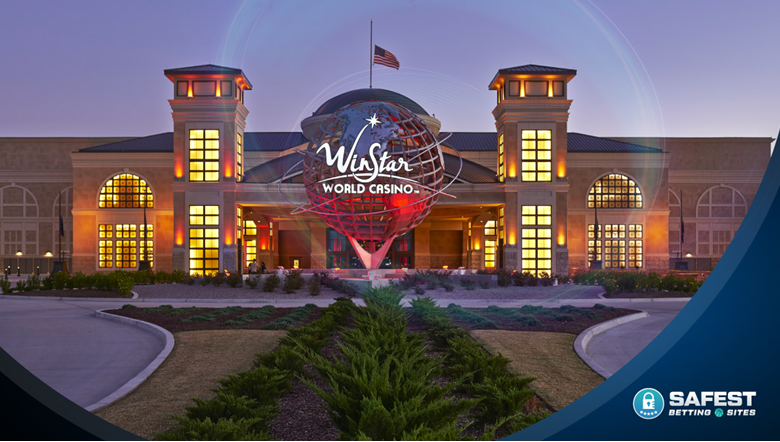 If you want to know what is the largest casino in the world, playgrounds for the rich and famous will shock you. Resort-style casinos include Michelin-star dining, star-studded entertainment venues, and stadium-sized parking lots – for your Rolls and Maserati MC12.
Because profits are record-high (and gambling laws keep changing), developers purchase thousands of acres of land to create huge MEGA gambling establishments.
We will take a look at the world's biggest casinos. One location has Michael Jackson memorabilia, another includes Qing Dynasty artwork, and one has a record 8,400 slots!
10 Largest Casinos in the World
While you might be comfy at home playing the best real money online casinos, a dizzying display of games, elite accommodations, thrilling performances, and massive gambling spaces await at these locations:
1. WinStar World Casino
Standouts: PGA-style golf course, bull riding, restaurants
Ask Alexa or Google what are the top 10 biggest casinos. Or ask what is the number 1 casino in the world, and this Oklahoma location might come up.
Founded in 2003, Winstar World is 600,000+ square feet (after its expansion). The hotel has 1,500 rooms, and the casino serves as an entertainment venue for musicians and celebs.
2. Venetian Macao
Total costs: $2.4 billion
If you search online for what is the richest casino in the world, the Venetian (not the Vegas location) ranks high.
At 546,000 square feet, over half a million square feet are for gambling activities. The facility (under Sands owners) includes 3,000 gaming machines, 870 card and table games, and 3,000 hotel rooms.
Other great features include an Italian-style gondola ride. O sole Mio!
3. MGM Cotai, Macao China
Noteworthy: The building facade resembles a MASSIVE Lego design
Pack for an extended stay when visiting Macau. With 41 casinos (the Vegas strip has 51), Macau is the location of six of the ten biggest casinos.
The gaming space in this newer casino (2018) is 500,000 square feet. The location includes 175 table games, 1,500 slots, and 1,390 rooms.
Home to Nature's Art (indoor art garden), there are 300 paintings (including some from the Qing Dynasty), 200 orchids, and over 100,000 plants.
4. City Of Dreams
Search for what are the top 5 biggest casinos in the world, and City of Dreams will show up. Next to the Venetian in Macau, this 420,000 square foot, Hard Rock-style casino has 1,350 slots, 520 poker tables, and 1,400 hotel rooms.
Noteworthy attractions include the 3.7 million gallons Dancing Water Theater. A record 2 million visitors have seen the massive pool show.
5. Foxwoods
Noteworthy: Two-story kids arcade, Six themed sub-casinos (adults-only)
As one of the largest US casinos, Foxwoods is 340,000 square feet. The Connecticut location is a major casino complex with plenty of room for its 7,000 slots, 400 card tables, and 824 hotel rooms.
6. Wynn Macau
The 273,000 square foot luxury hotel is a leading resort and home to one of the world's biggest gambling meccas. It has 1,000 guest rooms, two spas, and eight restaurants (most are five-star).
7. Ponte 16
Noteworthy: Former home to a Michael Jackson themed museum with his rhinestone glove
The massive 270,000 square foot Macau casino is a UNESCO World Heritage Site. However, the inside is more like Vegas-style glam, with 320 slots, 150 card games, and 423 rooms.
8. Tusk Rio Casino Resort
Standouts: Private gambling salons (for high-stakes tournaments!)
A whopping 266,000 square feet helped South Africa's Tusk Rio Casino Resort make our list. With a Carnival-style decor, guests can enjoy 70 rooms, 257 slots, and 12 table games.
9. Sands Macao
FACT: They paid off their construction loans the first year (record profit)
At 229,000 square feet, Sands Macau cost a staggering $240 million. The casino has 51 rooms, 1,000 table games, and 750 slots. If you visit, check out the Grand Prix museum and wine museum.
10. MGM Macau
Noteworthy: Has an 1800s Lisbon, Portugal train station replica (north end of the property)
MGM Macau is quite impressive at 222,000 square feet. With 12 restaurants, 410 table games, and 835 slots, it also has 593 hotel rooms.
Perfect for a night on the town, the tower is a favorite with guests who want to stay and play. Private salons are available for high rollers and stars who enjoy luxury.
Luck Be a Lady!
It is fair to say that the world's largest casinos are luxurious, include plenty of entertainment, and offer delightful dining options. Catering to high rollers and celebs who frequent these VIP casinos, they have exclusive gaming rooms and other preferred player perks. With thousands of slots and other games, more is more!
For more gambling news and reviews, visit Safest Betting Sites