Sports
5 Great Health Benefits Of Pickleball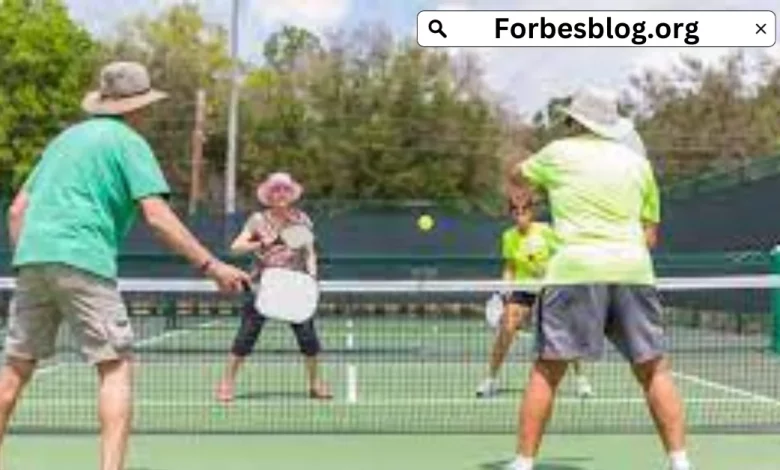 Pickleball is an awesome sport that is rocking the nation from top to bottom! It is brilliant because it is suitable for everyone, all ages, gran can play with the kids, everyone can have a go. 
Sure, it is a quirky sport, it is an unusual meshing together of tennis, badminton, and ping-pong, and there are some unique pickleball team names out there that come from this fun and somewhat unusual sport. But, there is a lot of good that comes from it. 
Pickleball comes with a whole wide array of health benefits, and because it is suitable for people of all ages, these health benefits can be absolutely vital for helping everyone stay in tip top shape. 
PIckleball is also a singles or a doubles game, so it can be great for enhancing your social life, especially in your later years when getting a good chat with friends is not the easiest thing to do. 
But, aside from helping you gain a new social circle, or build on the one you already have, pickleball can help you enhance your health in even more ways. Interested? Let's have a look! 
#1. Provides A Mental Health Boost
This is true for every sport really, but getting out there, getting some fresh air, and being active around other people can give you quite the brilliant health boost. It enhances your mood and gives you something enjoyable and fun to look forward to after a hard week. 
It decreases your stress levels, and when you are not stressed, your life is much more peaceful. Do not forget that mental health plays a massive part in physical health too. 
Stress can hurt your body a lot, increasing your blood pressure, and leading to heart problems. De-stressing with some pickleball, and getting in that moderate exercise, helps you feel calm and gets your heart pumping as it should.
#2. Burn Those Calories & Shed Those Pounds
Pickleball is great for everyone because it is not as intense as tennis, in fact it does not include a lot of running, which is great if your mobility is low. But, it can help you get in a bit of moderate exercise which helps you burn off those excess calories from that birthday cake you had yesterday. 
Players in pickleball move in a small court, while playing ping-pong, badminton and tennis (all mashed into one), it gets you on your feet, moving, gets you a bit out of breath, and you can burn fat and calories while having loads of fun! 
#3. Strength & Balance Improvement
Balance can be improved through the game of pickleball too. As we get older, our balance does take a bit of a hit, and pickleball can help us to keep our muscles in check to help with our strength and therefore our balance. 
The more strength you gain, the more agility you can build and therefore the more control you have. 
Having more flexible and strong muscles you have, the more your blood-flow will be improved through your body which will benefit your health overall. 
You will find yourself more independent, and also happier for this fact as well. 
#4. More Flexible & More Agility Building
Of course, with strength and balance comes flexibility and agility, which is another thing most of us want to get our hands on as we age. Don't just accept that your body is aging and so you can't do that thing anymore! 
Take up pickleball, and work it, so you can still be independent! 
Since your whole body gets involved with pickleball, your flexibility improves, and so you can actually avoid unpleasant conditions such as arthritis, and further problems with your joints. 
In order for your body and bones to stay flexible, you need to exercise them, but you probably don't want to be doing too much, this is why pickleball is perfect! 
#5. Enhances Overall Wellbeing & Health
Pickleball is not just good for all ages, but it is good for anyone who has experienced injuries in their lives and may suffer a bit from it. It can keep you in good health and fitness, but won't strain you too much. 
You can still play pickleball and burn up to 40% more calories than you would when you go for a walk, it won't cause you further pain if you can walk comfortably. 
As pickleball is physical, it does also improve cardiovascular health as well, which makes it an ideal sport for seniors and those who may be at high risk for strokes and heart attacks. 
Visit for more articles: forbesblog.org