Home Improvement
A Jury's Verdict Against Walmart: What You Need to Know about Slip-and-Fall Cases in Florida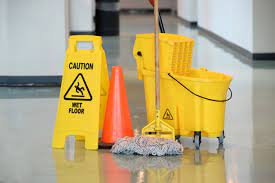 Walmart has been ordered to pay $2 million to a woman who slipped and fell at one of its Orlando stores. According to the woman's lawyer, she suffered considerable injuries to her neck and right arm in the fall, which Walmart failed to prevent.
While the plaintiff was successful in her case against Walmart, slip-and-fall cases are notoriously difficult to prove in Florida due to the fact that the victim must show that the defendant acted negligently and was in violation of a specific law or contract. 
In addition to this requirement, there is also an element of causation: the plaintiff must show they were injured as a direct result of that negligence. 
This article will explore some of the difficulties involved in successfully litigating slip-and-fall cases so you can better understand the process if you ever find yourself injured in a slip-and-fall case. 
The Walmart Case
According to the plaintiff's case, Judith Demeritt visited a Walmart store in 2016 and slipped on leaking milk and condensation from a malfunctioning cooler. As a result, she sustained significant injuries to her neck and right arm, which was exacerbated by a pre-existing disability.
Up until the date of the trial, the plaintiff incurred around $108,000 in medical expenses. And because of the injuries, Demeritt lost full use of her right arm, which significantly impacted her life. 
But because slip-and-fall cases are generally hard to prove in Florida, there was no certainty that Demeritt would be successful in her suit. Her council had to prove that Walmart was negligent in that they breached their duty of care and that that negligence directly resulted in her injuries. 
So, the plaintiff's counsel argued that Walmart failed to maintain safety at the premises, which resulted in Dermitt slipping and falling. 
After only two hours of deliberation, the jury found that Walmart was 100% responsible for Demeritt's injuries and that she was to be compensated for lost wage earnings in the past, medical expenses incurred in the past, and medical expenses to be incurred in the future as well as damages for pain and suffering. 
Her total award amounted to $2 million. 
Understanding Slip-and-Fall Cases
If you are ever injured in a slip-and-fall accident, it is important to understand the basics of personal injury law as it applies to these types of cases. 
In order to win a slip-and-fall case in Florida, the plaintiff must prove that:
the property owner had a duty to keep the premises in a reasonably safe condition, 

the property owner breached that duty by failing to use reasonable care to maintain the property, and 

that the property's owners negligence resulted in a customer's injury. 
Beyond that, in cases where there are no applicable building codes or ordinances, the plaintiff is also required to prove that the property owner or business owner was aware that the unsafe condition existed before the slip-and-fall incident.
In other words, it is up to the plaintiff to prove that the condition was there, that the property or business owner knew about it, and did not take the proper precautions or warn the injured person of the dangerous condition. 
That makes it imperative that the appropriate evidence is gathered as quickly as possible.
Collecting Evidence for Slip-and-Fall Cases
In many slip-and-fall cases, the most important pieces of evidence are early photographs of the injury and the conditions that caused it. These pictures are best taken while still on the premises. 
For example, proper posting of warnings, notices, and hazard signs are often mandated by law, and their absence could point to a failure to show adequate concern for safety. Conversely, a picture indicating that there were no such signs could be evidence to your advantage. 
And if you can get a statement from a neutral third party, such as another customer in the store, that could also carry great evidential weight. 
How Can Personal Injury Lawyers Help?
If you have been injured in a slip-and-fall accident, it is important to consult with an experienced personal injury lawyer as soon as possible. Despite the fact that slip-and-fall cases are notoriously difficult to prove, we have seen from Demeritt's suit against Walmart.
Your lawyer will be able to review the facts of your case and advise you on how best to proceed. 
Personal Injury Attorneys who represent victims in slip-and-fall cases will employ the skills needed to help these individuals discover facts, which they can then use as admissible evidence. This will allow them to achieve justice for clients by obtaining fair outcomes such as compensation for medical expenses, lost wages, and pain and suffering. 
Key Takeaways
If you were injured in a slip and fall accident on someone else's property, you are entitled to claim and recover compensation and may do so by filing a personal injury claim lawsuit against the negligent property owner.
In order to win a slip-and-fall case in Florida, the plaintiff must prove that the defendant had a duty of care and breached that duty by not exercising due diligence. The plaintiff must also show that they were foreseeable victims of the defendant's negligence and that their injuries were directly caused by the fall.
While it's often difficult to satisfy this burden of proof, it's not impossible. For example, in the case between Judith Demeritt and Walmart, it was found that Walmart was entirely at fault for the accident and awarded $150,000 for past lost earnings and medical expenses, plus $1.85 million for past and future pain and suffering.
If you or someone you know has been injured in a slip-and-fall accident, consider getting in touch with a personal injury law firm to help you navigate your case. 
Author bio:
Christopher Ligori – Attorney of Christopher Ligori & Associates
Christopher Ligori has been practicing law since 1994 and is one of the few attorneys in Florida to have tried over 100 jury trials to verdict. He prides himself on aggressively litigating and pursuing his clients' claims, as well as treating all clients and their cases, regardless of the size of the case, with the same respect and diligence.