CBD
Blue Dream Strain Strain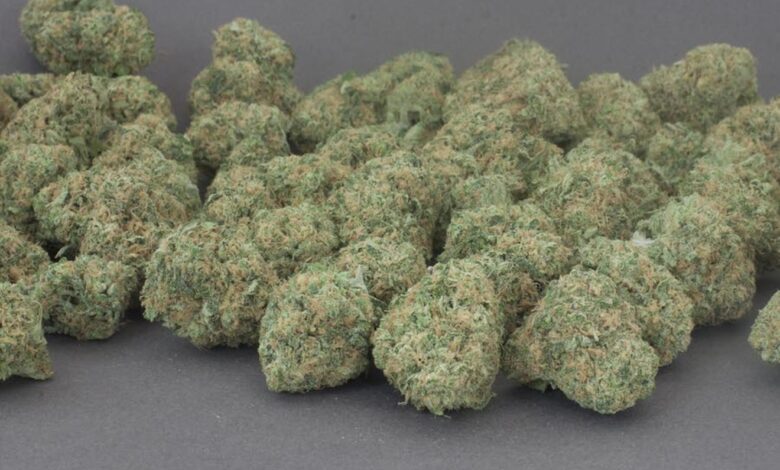 The Blue Dream Strain is a Sativa-dominant hybrid that has become a local legend in its home state of California. It has developed an excellent daytime strain reputation since it provides the perfect "pick-me-up" without being overpowering, relying more on being "mood-altering" rather than a substantial physical high.
| | | | |
| --- | --- | --- | --- |
| Sativa/Indica % | Indoor Yield | Outdoor Yield | Flowering Period |
| 80% / 20% | 21oz/ m2 | 21oz/ plant | 9 – 10 weeks indoors, October outdoors. |
This strain originated in the medical cannabis sector in sunny California, and it truly embodies the "cool California vibe." Blue Dream, a cross between a Blueberry Indica and a Super Silver Haze, was created for its role as one of the most popular strains on the global market.
Overview of the Marijuana Strain Blue Dream
Blue Dream's top Shelf features make it an easy choice, and its reputation for being laid-back in its high has indeed propelled this strain to the top of the rankings.
At A Glance
ORIGIN
Blueberry indica crossed with Super Silver Haze
EFFECTS
Relaxed

Happy

Euphoric

Uplifted

Creative

FRAGRANCE
Sweet berry, Blueberry, Vanilla, Herbal.
FLAVORS
Sweet berry, Blueberry, Mango, Earthy, Vanilla, , Herbal.
ADVERSE REACTIONS
Dry mouth

Dry Eyes

MEDICAL
Stress

Depression

Pain

FLOWERING TIME INDOOR
9-10 Weeks
FLOWERING TIME OUTDOOR
October
PLANT HEIGHT
Tall
THC CONTENT %
17-24%
CBD %
2%
INDICA/SATIVA %
20% / 80%
INDOOR YIELD
21 ounces per square meter
OUTDOOR YIELD
21 ounces or more per plant
CLIMATE
Mediterranean or subtropical
GROWTH LEVEL
Moderate to easy
RESISTANCE TO DISEASE
In outdoor cultivation can be susceptible to red spider mite infestation
Effects of Blue Dream
The incredibly relaxing Blue Dream is well-known for providing full-body relaxation. Fans of the strain adore it for creating a moderate sort of euphoria, making it easy to enjoy even for inexperienced users. Another consequence is a feeling of gentle cerebral invigoration, which makes it great as a day-starter.
Its feel-good characteristics boost joyful emotions while fostering a general sense of enthusiasm and a desire to be creative. It is an excellent companion for brainstorming sessions, particularly in a collaborative context, as it can help generate new and unusual thoughts and proposals. As a result, it is excellent for anyone working in the creative area looking for a bit of inspiration.
It relaxes without turning you into a couch potato, making it a no-brainer: Blue Dream embodies a floaty dreamlike condition that allows for social engagement and the energy to execute chores physically. Its ability to produce modest mood-altering high results in a warm fuzzy feeling that is difficult to resist.
Fragrance of Blue Dream
Given its blueberry heritage, this strain has a delicious, rich flavour that is appealing and tasty. It closely mimics the aroma of blueberries, but it also has a solid general fruity whiff. It's been described as vanilla-sweet, with a distinct presence of mango.
Flavours of Blue Dream
Blue Dream might easily be described as "what you smell is what you taste." Its flavour lingers in the sweet berry kind, with herbal and spice overtones. Its rich, fruity flavours make it easy to consume, and its subtle sour notes provide the right balance of flavours.
Blue Dream has notes of spice in addition to its evident berry fragrance, which breaks up the overall fruitiness and transforms it into an aromatic and delectable feast on its own.
Blue Dream marijuana looks nothing like fresh blueberries (no shades of blue or purple involved, whatsoever). Instead, expect dark green blooms with sagey pistils and frosty, THC-coated trichomes. Blue Dream water leaves' hue varies according to the subspecies and the growing conditions.
Overall, it is a moderate pick for these reasons – its taste isn't overpowering, which has helped Blue Dream become one of the most popular strains available on Seed Supreme.
Blue Dream Adverse Reactions
In addition to causing blurred vision, the Blue Dream strain can create a brief feeling of mild dehydration, which might cause your eyes to feel a little dry. This is one of the few adverse effects of the Blue Dream strain.
Aside from that, it can generate a feeling of exhaustion and mild anxiety and paranoia in rare circumstances, which are primarily associated with smoking or consuming significant amounts of alcohol. There have also been some minor complaints concerning the existence of a moderate headache after using this strain and a need to cough due to throat drying.
Blue Dream Medical Benefits
What are the conditions under which it is effective?
It's no surprise that the Blue Dream strain has grown popular among people seeking it out for therapeutic purposes, given its capacity to provide a calm, mellow high. Because it was said to have been developed in a medical marijuana lab in the Santa Cruz region, this is a no-brainer!
Growing Blue Dream
Blue Dream grows to be a tall plant that is described as easy to grow indoors and easy to moderately grow outdoors because of its mild sensitivity to extreme weather changes. Blue Dream is a perennial that develops to be a tall plant. It is also prone to red spider mite infestation due to the sweetness of its aroma, which attracts parasites to the plant. It is usually cultivated indoors, although it can also be grown outside in the Mediterranean or subtropical temperatures with success.
Flowering Time
Indoors
According to the manufacturer, when growing Blue Dream high thc seeds from seed supreme indoors, a yield of 21ounces per square metre can be predicted on average. The flowering phase is expected to last approximately 9-10 weeks.
Outdoors
Growing this strain outdoors is projected to yield 21 ounces per plant, with October being the best time for harvesting.
Origin
Blueberry
Super Silver Haze
Blue Dream Strain Frequently Asked Questions
What is the yield of the Blue Dream strain?
Blue Dream produces 21oz/m2 indoors and 21oz/plant outside.
How much THC is in the Blue Dream strain?
It varies between 17 and 24%.
What is the history of the Blue Dream strain?
Blue Dream was produced by combining a Blueberry Indica and a Super Silver Haze.