Fashion
Customizing Your Braided Wig: Infusing Vibrance, Amplifying Length, and Enhancing Texture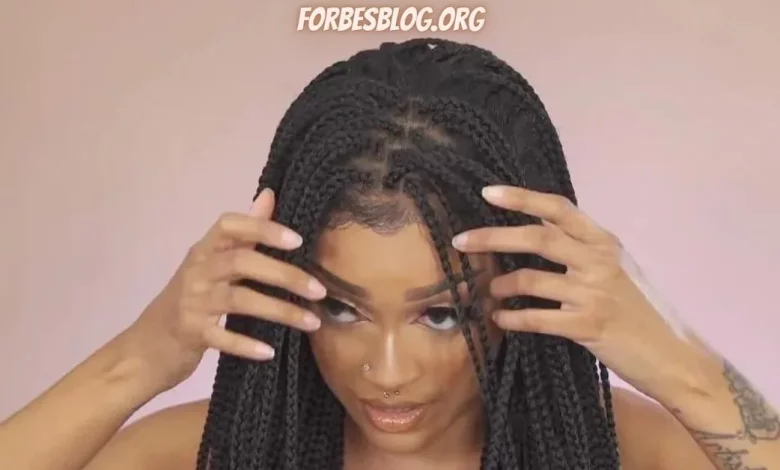 I've been wearing braided wigs for a few years, and I've really enjoyed customizing them to be unique. Not only does it save money by extending the life of each wig, but it's so satisfying to create one-of-a-kind styles that are just for me.
In this article, I'll share some of my favorite techniques for adding flair to braided wigs through color, length, and texture. Whether you prefer knotless braids or butterfly locs, these tips will help you take any braided unit to the next level with your personal touch. By the end, you'll be inspired with many ideas to customize wigs and make each one reflect your mood or style. Let's get started!
Unleashing Colorful Accents
One easy way to customize is by adding pops of color. Solid-colored wigs can come to life with strategic bursts of bright shades or ombre effects. Here are some methods I enjoy:
– Wrap individual braids with vibrant threads, strings, or yarns from root to tip for a peek-a-boo effect. Neon or metallic colors really stand out.
– Put bold stripes in braids by intertwining different shades of liquid eyeliner, markers, or threads for graphic lines. Go crazy, or keep it subtle with one or two colors.
– Dip dye roots to imitate dimensional regrowth without heat. Touchable hair paints look naturally dotted or fully colored sections.
– Ombre tip braids by lightly dampening ends and "painting" with semi-permanent colors for a faded look.
– Transform select braids by unwinding halfway, re-braiding with thread wraps or tiny beads for standalone styles.
Play with soft hints of color or go fully saturated – customizing with seasonal palettes or mood boards lets your imagination run wild.
Elevating Length: Butterfly Locs Extensions
I love butterfly locs as a low-maintenance style, but sometimes want more length without full extensions. Synthetic braiding hair to the rescue! By tightly braiding a 1-2 inch piece into the bottom of each loc and concealing the joint, you can instantly go from shoulder-skimming to waist-grazing. Best of all, the extensions remove just as easily without heat damage.
Infusing Texture: Knotless Braids Versatility
While knotless braids are known for sleek looks, waves, and curls entice too! Dividing the braids, curling each section with tools, and preserving the texture gives a beachy tousled texture without stiffness. It adds fun variations beyond straight styles.
Proper care between wears helps customized wigs last through multiple uses. Soon you'll have a collection of unique looks tailored for different events or moods. Experimentation unlocks the styles that feel most "you." Have fun getting creative!
Texture without stiffness. It adds fun variations beyond straight styles. You can experiment with different curling techniques, such as using a curling iron, flexi rods, or even braiding the sections overnight for looser waves. Don't be afraid to play around and find the texture that suits you best. Whether for a bohemian vibe or a playful and carefree look, infusing texture into your knotless braids can elevate your style to a new level.
Proper care between wears ensures that your customized wigs last through multiple uses. Gently detangle the braids using a wide-tooth comb or your fingers, starting from the ends and working up to the roots. You can also use a leave-in conditioner or a lightweight oil to moisturize the hair and prevent frizz. When storing your wig, protect it from dust and tangling by placing it in a satin or silk bag. Additionally, avoid exposing your wig to excessive heat or humidity, as it can cause damage to the fibers. By following these care tips, you'll maintain the beauty and longevity of your customized braided wig for many styling sessions.
Remember to have fun and embrace your creativity while customizing your braided wig. Each wig can be a canvas for self-expression, allowing you to showcase your unique style and personality. The possibilities are endless, whether you're experimenting with vibrant colors, adding length with extensions, or playing with different textures. So go ahead and unleash your imagination, and enjoy the process of creating customized looks that make you feel confident and fabulous.
FANCIVIVI: Empowering Black Women with Exquisite Braided Wigs
All wigs I choose from FANCIVIVI.Each FANCIVIVI Braided Wigs is designed to make a statement, allowing women to express their unique beauty and embrace their individuality. It believes every woman should be able to look and feel confident, regardless of her skill level or time constraints. It celebrates diversity and understands the cultural significance of braided hairstyles. Our brand is dedicated to providing black women with a wide selection of braided wigs catering to their needs. Whether you're looking for goddess braids, box braids, twist braids, or locs, our collection offers versatility, creativity, and comfort.
Discover the convenience and style of our braided wig, perfect for travel and low-maintenance routines. We believe that looking stylish and put-together should never be a hassle, especially during your travels. Our wigs offer the perfect solution, allowing you to achieve a stunning look effortlessly.
Choose FANCIVIVI Braided Wigs and let your confidence shine. Our brand is dedicated to empowering black women with exquisite braided wigs that are affordable, convenient, and of exceptional quality. Visit the official website to explore our collection and find the perfect braided wig.