Lifestyle
Dive Into the Arabian Gulf at The Best Beaches in Dubai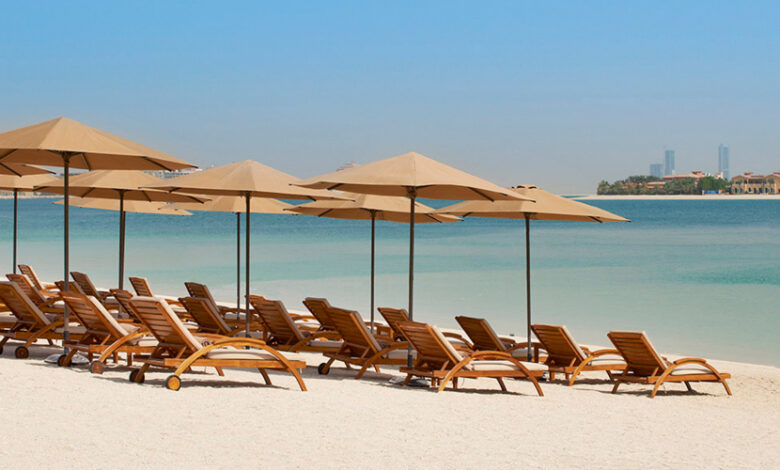 The beach is always calling for you when you're in Dubai. No matter what season it is, it's almost always sunny. Put on your swimsuit and get ready to dive into the waters of the Arabian Gulf. The only problem you might be facing is choosing a beach to enjoy the glorious rays. There are multiple options and they're all ready for you to create new memories. To narrow down your options, we've created a list of the best beaches in Dubai for you to choose from.
Palm BeachesWest Beach
Who doesn't like going to Palm Jumeirah? It has got it all. From good views to good food, it's the ultimate destination for shopping, dining, and entertainment. What if I told you it also has one of the best beaches in Dubai? That's right. It's located on the trunk of the island with everything you're looking to find at a beach.
It should be your go-to destination to take your dog for a walk on the seaside, but there are a few rules to keep in mind before walking that mile. And since there's nothing calmer than the sound of the ocean waves, you can get fit with Palm West Beach by joining their workout class every once in a while.
That might not be what you're looking for but rest assured, Palm West Beach doesn't fall behind at providing the best services. Whether you're looking for alfresco seating, bohemian vibes, or anything else, you'll find it at one of the beach's licensed spots.
JBR's Beach
You can't go to Dubai without going at least once to JBR. If it's not for the beach, it should be for the beachside restaurants. JBR's beach is one of the biggest beaches in Dubai. With fluffy sand and warm water, you'll lose track of time, wishing you had a little longer to spend the day under the sun. Just make sure to pack your tanning oil and sunblock to get a sunkissed look after a day under the sun.
Kite Beach
If watersports are what you want, then Kite Beach is where you should go. The beach is known for kayaking and paddleboarding, so you can't go there without at least going on one adventure.
The beach is beautiful, with the kites hanging above you and shells filling the sand around. There are restaurants, cafes, and food trucks that run along the beach. Salt being the most famous food truck, known for its tasty burgers that keep you wanting more. There's always a long waiting line reflecting its delicious food, but it moves quickly, and it's definitely worth the wait.
La Mer Beach
It's not like any other place, La Mer has the perfect for a family day or a fun outing with your friends. That's because La Mer Beach has got the sand, the sun, the watersports, and the comfortable sunbeds. It sounds like a whole package, doesn't it?
You can rent a cabin with a view of the Arabian Gulf for a comfortable day at the . Most importantly, it's the perfect place for some seaside fun.
Marina Beach
Another to add to the list of the best beaches in Dubai, Marina lies among a luxurious residential area in Dubai, but it's entry is free of charge. There you can choose if you want to swim, go on an aquatic adventure, or play on the floating playground in the sea.
When you're hungry, you can always grab a bite at one of the beachside restaurants available around the area.
Around every corner in Dubai, you'll find a filled with fun activities and new adventures. It's up to you to try and decide which one's the most suitable for you, but they're all just as fun. So it's time to choose a , put your swimsuit on, and get going.