Technology
Holographic Foils and Films Enhance Brand Security in the Face of Significant Market Growth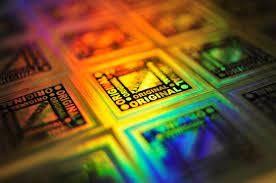 According to Dr. Paul Dunn, chair of the International Hologram Manufacturers Association (IHMA), holography remains a very flexible and adaptable technology.
With the fierceness of brand market share competition in the current market, the hunt for evermore creative packaging design concepts is underway.
Dr. Dunn continues to say that the versatility, cost-effectiveness, and accessibility of holography enables it to be integrated with a wide range of conversion, substrates, and print technologies, giving rise to new products and commercial applications.
A Thriving Market
The effect of COVID-19 demands more creative anti-counterfeiting packaging solutions to protect supply chains and desire for added value brand appeal. According to IHMA, this will fuel significant CAGR growth in the holographic foil market between 2021 and 2027.
A new class of optical structures is meeting these needs with distinct, clearly recognized visual effects that are more difficult to duplicate. Meanwhile, contemporary holograms' eye-catching appeal makes them an effective engagement aide at the point of sale.
Dunn also says that surveys conducted over the years have proven that the technology captures the attention of worldwide customers perusing the product shelves in a store. He adds that maximum brand appeal is the one quality that all brand owners seek for their packaging.
Sustainability
Holographic films and foils, according to Dunn, are compatible with recyclability. He believes this can also help promote the push for more ecologically friendly packaging options.
"There are products out there that are 100 percent recyclable already," he says. He also points out that these are receiving interest from creatives and packaging companies that utilize "sustainable and repulpable processes." These all help aggrandize prints.
He goes on to add that consumers are demanding even more attractive yet environmentally responsible packaging solutions made using low-carbon technology and environmentally friendly materials and processes.
He says some films and foils incorporate the absolute best in sophisticated optical technology [while] eliminating the need to transfer components from country to country to save transportation costs and related carbon emissions.
Brand Upgrades
According to Dunn, holography can give commercial packaging a premium appeal, which is why more firms are using holographic films and foils.
Holographic film innovation is suitable for a wide variety of adaptable eye-catching applications, expanding the innovative visual options for packaging and print designers to strengthen brand identity and revitalize mature or fading designs.
The Excellence in Holography Awards recently demonstrated the ability of holography to revitalize businesses. The holographic calendar from Hazen Paper Company in the United States was hailed as a "significant step forward" in holography for commercial packaging.
A grey motion backdrop sky and color option for the dragon's body and twin lenses to produce a flame effect are included in the calendar.
Meanwhile, AR Packaging provides various technologies for enhancing packaging design with bright holographic finishes, with Nivea's "Make-Up Expert" boxes being a noteworthy example.
Using Holography to Quell Counterfeiting
As an example of what hologram anti-counterfeit security may offer, Dunn points to Holography Industry CJSC's (Belarus) next-gen labels, which employ a mix of polygraphic printing and holographic imagery to enable the development of new visual effects.
Cold embossed holograms incorporated into labels by the Holography Industry CJSC also allow unique designs for brand development and retail appeal.
Meanwhile, holographic components in packaging are widely used in toothpaste, high-end beauty products, and personal care products.
Dunn says that holograms have the potential to safeguard brands and profits in the frontline fight against counterfeiters and fraudsters. The appearance of their logo on products reassures those participating in the supply chain, who recognize the security and financial benefits they provide.