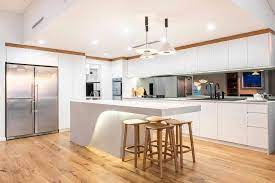 Renovating a kitchen from top to bottom is expensive. Rather than pulling out your cabinets and redesigning the room from scratch, it might make more financial sense to execute small yet effective changes to your interior. If you want to spend more time in the space instead of avoiding it, read the following advice on how to give your kitchen a stylish makeover.
Add a Backsplash
Improve your kitchen's durability, personality, and design by adding a stylish backsplash. You can add texture with a simple white tile or inject color and character with a vibrant pattern. It is an inexpensive way to create a more elegant, finished space that will wow your guests.
Switch Your Hardware
If your kitchen faucet looks a little worn or your cabinet hardware is outdated, it might be time to replace them for a more stylish design. Great options for a modern kitchen include polished chrome, bold brass, copper, or black faucets and handles. The small change could make a dramatic difference to your kitchen. Also, you could complement the new hardware with pendant lighting or a new hood in the same metal.
Install a New Countertop
If your current countertop dents your kitchen's overall design or appears dull or worn, a brand-new countertop could transform your interior. Legacy Countertops provides different options to match your kitchen design, color scheme, and taste, including durable granite, elegant marble, and timeless quartz, to name a few options.
Use Decorative Elements
Bringing your personality into your kitchen could inject more life and style into your interior. For instance, hang colorful artwork on the wall for a budget-friendly makeover. Also, indoor plants will add life and texture to your kitchen, which you can place on shelving, on top of cabinets, or in the center of a kitchen island. Also, display your favorite cookbooks, stylish kitchenware, or delicate China.
Replace Your Cabinet Doors and Drawer Fronts
If you cannot bear to look at your kitchen cabinets another year longer, it might be time to replace them. Before stripping your kitchen, consider replacing the doors and drawer fronts only. It is a simple yet effective way to create a new kitchen design, and you could move from traditional wood or acrylic to modern high-gloss or matte.
Make a Statement with New Ceiling Lights
Wow every guest who steps inside your kitchen by installing new ceiling lights. For instance, it would be impossible to miss oversized copper pendant lights, which will create a more rustic, industrial feel. The lighting will become a focal point when positioned over a island or dining table, and you'd be wise to hang them in groups of three for maximum visual impact.
A kitchen makeover shouldn't destroy your finances, as you can embark on small yet effective changes that will allow you to feel a sense of pride every time you step inside the room. So, replace your  ountertops, switch your hardware, or hang stylish lighting that demands people's attention. It will bring you the change you seek and look amazing.