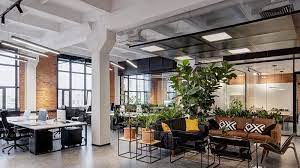 Curb appeal is something that every business owner needs to think about, especially if customers arrive at the business each day. A company that has strong curb appeal will be able to make a good first impression, entice customers off of the street, and also put employees in a good mood when they arrive for work each day. There are all kinds of big and small ways that you can improve the curb appeal of your business, and you might be surprised at the positive impact that this has on customers and other visitors, your staff, and the company as a whole. 
Fresh Paint
One of the best ways to lift the appearance of your business premises is simply with a fresh coat of paint for the walls, front door and window frames. Paint can fade and become worn over the years, especially when it is exposed to the elements. Therefore, a fresh coat of paint can revitalize the front, and you might find that changing the color periodically will help to keep things fresh and interesting.
Use Greenery
Greenery is a quick and easy way to improve the curb appeal and make the building much more welcoming. Not only are plants and flowers a way to add color and life to the exterior, but they could also lift people's mood when they arrive, as plants are known to have a positive impact on mental health. This could be helpful for putting a customer in a positive mindset when they come or lift the spirit of your employees when they arrive for work each day.
Maintain Workplace Signage
Your workplace signage is what people will notice first from the outside, which is why you want it to be looking its best at all times. Maintaining your workplace signage could improve your reputation, help your business to stand out on the street, and show that you care. You can maintain your workplace signage by checking them over regularly (especially if you have electric components), with regular cleaning, and by getting any damage repaired as soon as possible. Investing in high-quality signage in the first place is also hugely important and could have a big impact on your ability to attract customers off of the street.
Clean The Windows & Tidy Up
Windows that are grubby and unclean will send the wrong message, which is why you need to clean your windows on the inside and out on a regular basis. In addition to this, you want to make an effort to keep the area outside the front of the building clean and tidy. This is why you should sweep regularly, tidy up any litter, and power wash the entrance and pathways leading to the building on a frequent basis.
Hopefully, this post will give you a few ideas and encourage you to improve the curb appeal of your building. Not only will this make your business more inviting to customers and passers-by, but it should also improve the mood of your employees when they arrive for work each day.

Visit for more articles: forbesblog.org