Business
How to Start a Construction Company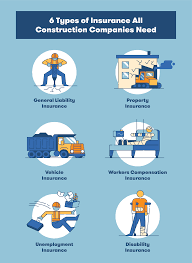 Do you,Want to start a construction company? Looking for tips for starting a construction business off right?
The construction industry can be very profitable but it can also be very competitive. If you want to start a construction business, you need to make sure to do your due diligence and take it one step at a time.
Here's how you can successfully start a construction company.
1. Start With Research
One of the first things that you should do when starting a construction company is to do your research. Fortunately, there are a lot of great online resources that you can use to learn more about the construction industry and to learn about the best practices for getting started.
You should find out everything you can about the construction industry as a whole. However, you should also conduct research on your local market. Be sure that you learn about your potential customer base and competition to ensure that you'll be ready when you launch your own company.
2. Write a Business Plan
One of the key first steps to starting a construction business is to write a thorough business plan. A business plan can help you to clarify your vision and will give you a better chance of finding success.
On top of this, a business plan will also help you to get approved for loans more easily. Be sure that you draft a business plan that includes all of the necessary sections, including a market analysis, your business structure, a marketing plan, and information about your products and services.
3. Register Your Construction Business
When starting a business, you'll need to decide on a business structure, such as an LLC or sole proprietorship, and register your business legally. You'll also need to apply for an employer identification number (EIN).
In addition to this, make sure that you check with your local government to find out exactly what type of registration will be needed. Be sure to learn about anything you need to do before you launch.
4. Acquire Necessary Licenses and Certifications
In addition to registering your business with any relevant government agencies, you may also need to have licenses, certifications, and permits. You'll want to check with your state to find out exactly what is required of you when starting a construction company.
Usually, you'll need to get a general contractor's license at least. You may also need to get another type of contractor's license as well if you'll be doing specialty work such as painting, electrical work, roofing, or similar types of work.
5. Look For Funding
Another important step to starting a construction company is to get funding. You'll need to figure out how you're going to launch your business and pay for any equipment and supplies that you'll need.
Getting a small business loan or a working capital loan are possible options to consider when starting your business. If you're hoping to finance a speculative construction project, you may also want to consider getting a spec construction loan.
Following These Steps to Start a Construction Company
If you'd like to start a construction company, be sure that you take the above tips to heart. Following the above steps will set you on the path to building a successful construction company.
Need more business advice about sell your business? Start browsing our blog now to discover more useful business articles and guides.