Fashion
How To Wear VIVIDMax Grip Straps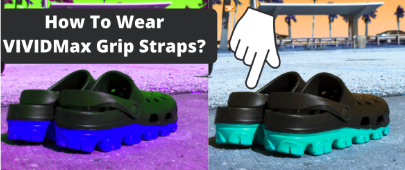 Your outfit showcases your mood and individuality. Obviously, we wear things based on what we prefer and who we are. Your mood determines your fashions, while the type of accessories you wear are exclusively hooked on your preferred style. VIVID Footwear powers your fashion.
So, how should you wear your VIVIDMax Grip straps?
Wearing VIVIDMax Grip Strap
If you don't know the simple ways on how to maximize the full functionality of the Grip's strap, here are some tips you need to follow:
VIVIDMax Grip with strap on the front – Some users prefer this style, depending on their outfits. This VIVIDax Grip strap style is a good match for high-ankle slacks, mid-length shorts, and skirts.
VIVIDMax Grip with Strap at the Back – This strap style is perfect for users who opt to secure their feet during outdoor activities. Back straps support their feet not to slip and continue what they are doing in a most comfortable way.
Take note that every shoe has a single VIVID Max Grip strap. It is attached on both sides for support, either to the forward or heel position. If you are wearing Vivid Footwear thick foot support socks, it is best to use Grip straps forward to allow a little more space for your feet in the shoes. On the contrary, if you are using the VIVID Raise Awareness Panda Socks, it is best to wear VIVID Max Grip straps back on your heel.
Visit for more articles: forbesblog.org