Home Improvement
Know More Before Stepping Out For Your Window-Coverings Shopping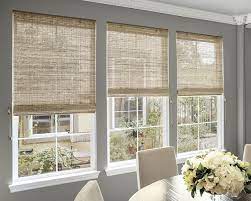 Deciding on the best window coverings for your home may prove to be a time-consuming chore. The more samples and markets you glide through, the more puzzling it may seem to you. Consequently, it is essential to initially know the needs for your window-coverings shopping. It is crucial to have a checklist for this, as dissatisfaction with the product after purchasing it may weigh heavy on your heart as well as your pockets.
Before discussing the factors central to consider while deciding on window coverings, first, let us know what all entail in window coverings and how it is a tad different from window furnishings. It is important to know the distinction, as this will help you decide which treatment would be more suitable for your room—window coverings or window furnishings.
What Exactly Can Be Considered As Window Coverings?
Window coverings are any materials used for covering our windows so as to manage privacy, sunlight, additional weatherproofing or else solely for decorative purposes. Window coverings are usually applied in the interiors of windows, for instance, inside the rooms of homes or offices. Having said so, exterior solutions are also available in the market.
Window covering falls under the wider concept of window treatment or window furnishing, which also includes a window's interior designing or fashioning a window frame along with installing external awnings and Venetians, external and plantation shutters, Roman and roller blinds, rods and tracks, fabrics, shutters and soft window furnishings, among other things.
Having known the disparity between the two, let us now carry on with the issue at hand, which still hasn't been resolved yet. What should we look into before going for our window-coverings shopping?
Do not panic; we have the most vital factors penned down for you here, which will help you make an informed decision during the purchase.
Popular 5 Factors To Consider For Window-Coverings Shopping
1. Privacy
Our homes are our personal spaces. Unlike corporate chambers and cabins, where everything is preferred to be transparent and visible, our homes are the places where we can catch our breath, tap our feet to the music, stretch our legs and limbs for exercising and, basically, keep the world away from our minds for a while. We do not like for our solitude to be disturbed after a long and tiring day at our offices.
Enter—window coverings!
They can depend on the requirement of the room. For instance, the living room soft furnishings may need light-coloured coverings where we can work from home with laptops, but the bedroom may need dark shades, so as to induce rest even for a baby in the middle of a busy day.
2. Light And Temperature Control
Rooms that directly face the sun may need denser window blinds or shades, so as to regulate the light as per our needs. This will also keep the room cooler even on high-temperature days.
If your bedroom is facing direct sunlight, it is advised to install exclusive window furnishings and coverings which can proffer complete opacity along with blackout features. This will help you to get the absolute rest you deserve at the weekends after a hectic week at work and keep the morning sun out, as well as any glaring street lights or floodlights during nighttime.
3. Matching With The Existing Décor
The utility is primarily the major issue while getting window treatments done. At the same time, it's only natural to have your existing décor complement the new window coverings. You might want to check the mood of the specific room, match the tiles, floor, furniture and walls' colours and then go ahead to buy the new covering.
Along with the colour, if you are a perfectionist, you may want to find the coverings that complement the texture, shades, patterns and shining of the bedspreads of the room along with the rest of the objects present there.
Window coverings are not just all-purpose but also great for the ambience of our house. They add to the style statement of your house with a personality of their own!
4. Is Customization Your Thing?
For all the renovation aficionados out there! There's good news. You can go nuts with the variety of window coverings out there in the market. Nobody said that you need to stick to a solely single window covering. For all the lush and plush window coverings, you can get a wide range of complimentary mix and match pairs which will help you give a castle-like look or a modern-day room's impression. It all depends upon you and your wish.
There are some of the finest blinds and curtain suppliers in the Australian market that can assist you in juxtaposing your favourite window coverings. Your classic window coverings may be a perfect companion to your contemporary paintings collection in the living room.
5. Additional Benefits
Certain window coverings can also provide us with added security from the harsh climate of Australia as well as bushfires and untamed weather.
They also save us from noise pollution by doing noise insulation along with thermal insulation.
They provide us with protection from the direct UV rays, scorching sunlight and heat, thus shielding our furniture, decreasing glare during daytime and maintaining the room by making it dark during the night.
It solves the problems of noisy neighbours by giving us privacy.
They keep our homes insulated, reducing our bulky bills for cooling and heating our houses.
They create a barrier that protects our windows from the outside patios or open spaces.
While thinking of redecorating the home, window coverings are your go-to, pocket-friendly renovations, as they are quite cheap with a great capability to change the mood and look of a room.
You can transform your outdoor space into a room by just adding a few window coverings.
Considering all the factors, you are now ready for making a clued-up judgment, rather than going for the first piece of covering your eyes catch. Just remember the checklist and you are good to go. Have a happy window-coverings shopping!