Home Improvement
Things to Consider When Looking For a Pergola for an Outdoor Area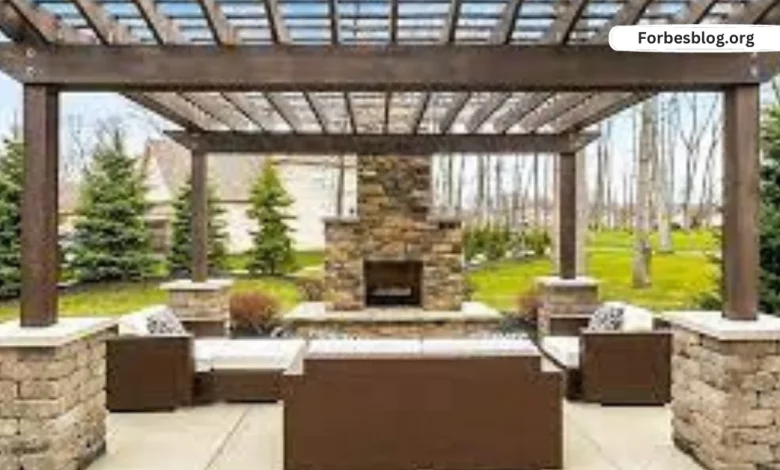 The weather starts getting better at the beginning of autumn when leaves change their colors and temperatures drop. One of the most stunning seasons makes people leave their indoors to spend more time outdoors, hosting parties, and barbecues, and making fire pits to sit around in the evenings. But a hot sun in the mornings and rain showers during the season can make this difficult.
So for people looking to utilize their outdoor space all year round, a pergola can be the perfect solution that allows them to use outdoor space no matter how the weather is outside. Good construction in your outdoor area will provide shade and shelter from the blazing sun, rain, and snow.
You can make the right investment by installing a pergola according to your needs and requirements if given thoughtful consideration. So here are some important factors you need to consider when installing a pergola in your outdoor space. But before that, let's look at what a pergola is.
What is a pergola?
A pergola is an outdoor structure that consists of a robust cross-beam lattice supported by vertical pillars, which offer a shaded passageway or a sitting area. It is best for outdoor space as it allows comfort and ease for homeowners to utilize their outdoor space. They not only protect from sun, rain, and snow, but they also allow fresh and cool air to pass through.
1) Find the best location for Pergola
The first thing you need to consider before installing your Pergola is the location of your pergola. How do you want to utilize your outdoor space? This will help you understand where a pergola structure will benefit you the most.
A pergola can be an extension of your indoor area, or it can be used to cover your outdoor sitting area, deck, or patio. Connecting the pergola with the house is beneficial to block the cold and harsh wind during the winter season. But if you want to benefit from a covered patio or deck, which will allow you to host parties or have a peaceful sitting area, then a separate structure will be best.
2) Type of roof of Pergola
The next thing you need to consider is the type of roof you want. If you want 24/7 shade for your outdoor sitting area, then a fixed roof pergola is the one you need. These fixed-roof pergolas consist of insulated panels sandwiched together. These panels can also absorb the heat of the sun.
You can install LED lights, fans, and heaters connected to the panels. But if you are looking for a flexible option, then an automated louvered roof will give you a retractable cover pergola. With this automated retractable roof, you can open your roof to let the sun and the breeze in, but when needed, you can cover the roof to protect outdoor space against harsh sun, rain, and snow.
This type of roof can be operated manually, with a remote control, or through sensors. Some of the louvered roof pergolas also contain a drainage system that allows rain to move to the ground and not collect on the roof.
3) Selection of material
Pergolas can be created from various materials, including aluminum, vinyl, PVC, or fiberglass. When selecting the material for your pergola, it is important to decide what kind of protection you want. Whatever your needs, the primary factor determining the type of material is the cost. The high demand for fiberglass rain resistant pergolas has elevated prices, and thus it becomes unsuitable for home pergolas.
On the other hand, Vinyl is a cost-effective option, but it wears out, fading and warping over the years due to the sun. This leaves powder-coated aluminum as an ideal option that not only offers protection from rain and snow but is also not affected by the harsh sun. It comes in various colors to suit your house's exterior, and it will not rust over time.
4) Ensure there is a drainage system included
To benefit the most from your pergola, choosing a pergola with a drainage system is essential. Without a drainage system, the rainwater and snow will collect on your roof, which will negatively impact the roof, and if you open the pergola, all the water will come falling on your sitting area.
So good quality and best pergola for your outdoor sitting area is the one with an integrated drainage system to ensure all the rainwater and snow is removed from the roof and away from your sitting area.
5) Go for a continuous and gapless roof
It is imperative to select a roof that does not have gaps, especially if you selected an automated louvered roof. This will ensure good protection against the rain, snow, and sun. You need a completely sealed roof, so ask your vendor about it before purchasing. You can test the pergola yourself by visiting your vendor's louvered pergola installations at rain time.
6) Leave the task to professionals
Although you can find basic kits for a pergola that you can easily assemble, the process of engineering and accurate installation of a pergola is complex and should be left to experts. A pergola is a proper structure, whether freestanding or fixed, which needs to be engineered and designed according to the local building codes.
Since weather varies from one place to another, in areas with heavy rain and harsh winds, the pergola will need to be constructed in a way that withstands this weather. In addition to strength, you also need to consider the installation quality when it comes to durability and longevity.
So leaving this task to professionals will ensure not only its strength but also the quality of installation. But if you think you can take on the task and want to create a custom pergola, then there are various options at your disposal.
The bottom line
Every one of us hates the scorching sun and thus finds refuge from it inside our homes. But as soon as autumn sets in, we leave our cool indoors and take time to enjoy the outdoors. A pergola, thus, offers the perfect shelter that allows you to enjoy the outdoors without having to worry about the rain or snow.
It allows you to host parties and barbecues while enjoying the stunning outdoor scenery. So if you are looking into a pergola for your outdoor sitting area, then the above-mentioned considerations are important to ensure you create the perfect outdoor area.
ALSO READ: Five Effective Home Maintenance Tips You Should Know