Food
Stainless Steel Carts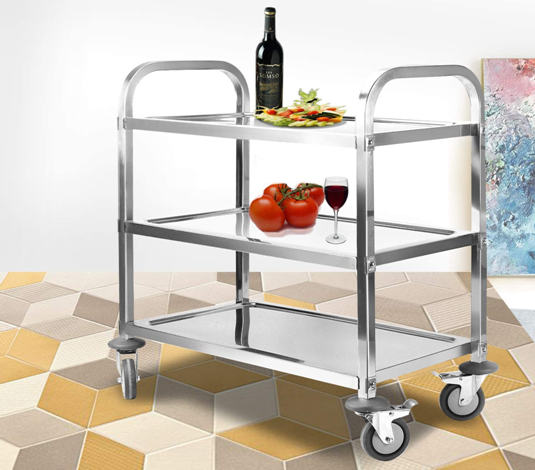 Stainless steel restaurant carts are used by consumers in aggressive chemical environments. These include both food production and any type of premises where the surface is treated with active detergents. Also, restaurant carts often need to be used in cafes and canteens to collect dishes due to the special requirements for hygiene and cleanliness.
 What types of restaurant carts are there?
Stainless steel restaurant carts with wheels are convenient for moving goods around the kitchen, from the warehouse to the workplace. You can purchase these types of carts:
Carts with a rubberized platform.
With additional static sides to support portable equipment.
Carts with a design of removable sides.
Carts with sides in the form of a grid.
The type of construction is a platform, on which handles are stuck on top and a support with wheels for mobility. The platform is a sheet of stainless steel that is welded to the frame. Therefore, the surface is easy to clean and can withstand a large load.
An important role in the transportation of cargo is played by supports with wheels, as they are responsible for supporting the weight. This also includes the coverage factor on which the goods are transported. On one of the pairs of wheels, a locking system is additionally installed, which allows you to put the stainless steel utility carts with wheels 'on the brake'.
Wheel standard 130, 165, 210 diameters. The first option can carry close to 200 kilograms, the second — up to 400, the third — 500 kilograms, respectively. Different types of rubber are used for the material of the wheels, depending on the requirements of the customer. One of the types:
gray rubber that does not leave marks on the floor;
black rubber — an economical option, as it fits any surface.
nylon — for restaurant kitchens or, in principle, a catering facility.
polyurethane — a great option for uneven surfaces.
Stainless steel work carts are mainly used, as mentioned, in kitchens, as well as in food companies, in cold and hot food production shops, hospitals, chemical plants.
 What are the advantages of stainless steel restaurant carts?
What needs to be mentioned is safety at work, as products and this restaurant equipment stand firmly on the surface and goods can be transported without risk. The surface of the platform is resistant to corrosion, cuts and is not erased. Also, the trolley itself is quickly cleaned with a sponge and detergent, which, as a result, is not absorbed and further pleases with its original appearance.
It is also very valuable equipment directly in the hot shops with baking, as there are carts with a sieve on which bread is cooled. Vapors do not affect the platform in any way, are not absorbed into it and do not spoil the product being made.
Such metal structures are unpretentious to adverse weather conditions and demonstrate excellent durability under different loads, indoors or outdoors. If necessary, you can cover the stainless steel work carts with powder paint, which will provide an attractive appearance, and also additionally protect against corrosion.
Therefore, if you need a convenient and functional carrier that is able to transport quite a variety of cargo, you should choose metal trolleys that have excellent properties and wear resistance.
Visit for more articles: forbesblog.org