Business
Storage and Care of Flammable Liquids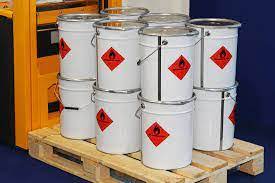 Many businesses and industrial sites have flammable chemicals that can become deadly hazards when a fire breaks out. Improperly stored liquids can cause a fire to spread and can even cause explosions during an already catastrophic blaze. In order to keep your site operating the way it should be, you should keep all chemicals properly stores. This includes using type II safety cans and following the guidelines below to make sure that they are out of harm's way.
Safety Cans
Safety can keep flammable material and debris from igniting when exposed to a flame. The most reliable products in this field, such as Justrite safety cans, use steel construction and a pressurized release chamber to keep the liquid inside from coming into contact with the fire. The use of air pressure as part of the release system keeps superheated air from igniting the liquid inside, even if the container is engulfed in flame. Safety cans come in two separate types: a type I can that has a single hold for filling and dispensing the liquid and a type II can that uses separate holes for each process. Both are protected against flame, but consider how you want to fill the cans when choosing which product is right for you.
Trash Receptacles
Flammable liquids are not the only things that can benefit from the safety standards used for type I and type II storage cans. Trash receptacles that hold flammable debris such as paper waste or food wrappers also pose a potential fire hazard. This is especially true in areas where smoking is allowed, where a stray hot ash could ignite the contents of a trash can and start a fire. Safety trash cans resemble type I safety cans in design, with a metal exterior to keep a fire contained. That prevents flames outside the can from igniting flammable contents. It also means that, should a fire start inside the trash can, the blaze will be contained just to the can and will not spread to other areas.
Other Considerations
The use of safety cans and flame-resistant trash receptacles is not the equivalent of a bulletproof vest when it comes to fire. You should also consider where these items are placed. Even if something is resistant to flame, there is always the chance that a receptacle will be improperly closed or damaged in a way that might prevent its proper use. By making sure that any storage cans are kept away from fire hazards and clearly marked as containing flammable liquids, you go the extra mile to ensuring workplace safety. A little bit of prevention can go a long way toward preventing a potential disaster.
By keeping the advice here in mind, you can make sure that your workplace is safer. The right level of safe storage can make sure that even hazardous or highly flammable materials are kept in their proper place. The use of safety cans reduces the risk of spills and prevents debris and chemicals from becoming a fire hazard.