Education
Teacher Training Courses for IB Curriculum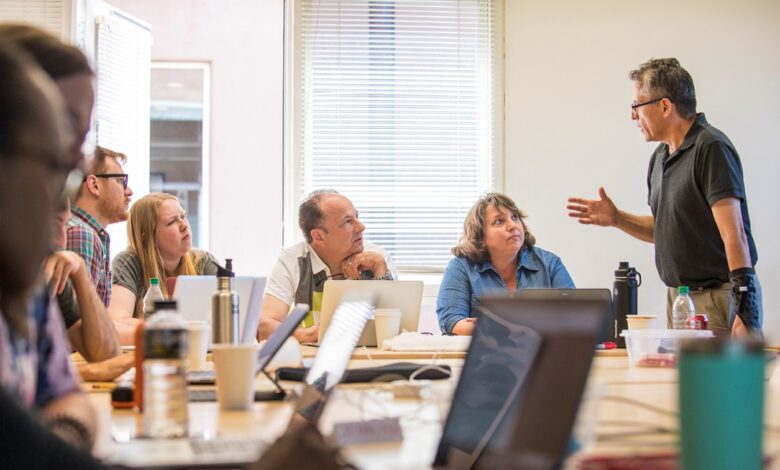 A teacher's job description includes being an expert in a specific subject area and having the ability to communicate that information to IB Curriculum students engagingly and effectively in the classroom. Providing appropriate guidance and being creative in the classroom distinguishes one teacher from another in the eyes of the students. So, IB Teacher training courses can make them perfect teachers but first and foremost, let us define what an IB board is.
What is IB?
The acronym IB refers to International Baccalaureate, which is a highly well-known international educational board. Internationally acknowledged, it consists of three types of educational programs, which are as follows:
The primary years' program (kindergarten through Class 5),
The middle years' program (Class 6 – Class 10) and
The diploma program (Class 11 and up) (Class 11 to Class 12).
IB World Schools are schools that the International Baccalaureate Organisation has recognised, and there are 18 IB World Schools in India.
Become a Teacher through teacher training courses, In India By Following These Steps:
Different Types of International Baccalaureate Certifications for Teachers
In the case of the International Baccalaureate curriculum, there are primarily two types. Both the types have the term IB Awards. The first is the IB certificate in teaching and learning, and the second is the IB advanced certificate in teaching and learning research. The door to get both the credentials is possible by a teacher. The right IB program should be at the top of the recommendation for learning proper ways to teach and get the certification. Now that the online teaching training course option is also open, the possibilities are widened.
Eligibility for participation In This Offline/Online Teaching Training Course
There are three prerequisites to meet to receive an IB certificate. First and foremost, you must hold a valid teaching licence. Second, you must have finished a graduate degree program in the subject area you wish to teach, and third, you must have at least three years of classroom teaching experience under your belt.
People seeking the advanced teaching and learning research certificate, on the other hand, must meet additional requirements, including having taught for at least five years in their current position as an IB teacher, with at least three of those years spent teaching the same IB courses in a single school.
Earning a Certificate of Completion
One of the first stages in earning a certificate is to enrol in the course of study at a university that has been accredited to provide the International Baccalaureate credential. Some colleges offer an online course for aspiring IB instructors who do not live near one of the universities that offer the program.
The seminars are structured so that they introduce instructors to the International Baccalaureate (IB) principles and how to put them into practice in the classroom. After you have successfully finished the course, you must submit an authentic certificate of completion.
Obtaining the certificate requires filling out the registration form and paying the appropriate registration cost. If you have completed the course, you must submit this form within one month of finishing it.
When obtaining the IB certificate, several institutions provide courses. Depending on your preferences, you may choose one that offers online courses if the institutes are not conveniently located near your home or office location.
Characteristics That Distinguish You as an IB Teacher
IB instructors themselves are lifelong learners who want to instill the same enthusiasm in their students as they have in themselves. The approach taken by IB professors toward their students is marked by creativity, openness, and adaptability, which distinguishes them from other types of academic instructors. They use a holistic approach to teaching and learning, focusing on inquiry-based education to develop socially responsible citizens in their students.
IB instructors are confident in their ability to educate and engage every student in the classroom; they are also responsible for themselves while also being receptive to the needs of others. When dealing with young people, they must be eager, adaptable, and aware of the larger world. They must also have a lot to contribute. Their involvement in academics and co-curricular activities should be active on their part. And, perhaps most crucially, they must be motivated to further their careers and be lifelong learners.
Once you have received your IB qualification from a university, the next step is to apply for a position that will allow you to shape children's futures. Search the internet for any employment vacancies as an IB/IGCSE instructor and submit your resume to those available positions. When looking for a career in India, there are various employment sites to choose from.
It Provides a Variety of Teacher Education Programs
Government-authorised IB educator training sites provide the following International Baccalaureate (IB) teacher training programs in different cities like Gurgaon, Bangalore:
In collaboration with Birmingham City University in the United Kingdom, the Post Graduate Diploma in International Education (PGDIE) is a one-year curriculum that is available.
Course Description: The Cambridge International Diploma in Teaching & Learning (CIDTL) is a Cambridge teacher training course that is based on a curriculum developed by the Cambridge International Examinations (CIE).
Teacher Leadership Development Programs: executive training programs are designed for senior teachers and principals who want to further their careers.
These online training sites offer various IB Educator certificate programs in collaboration with the international Universities as part of the MA in Education curriculum. Beyond IB courses for teachers, it also provides specialised leadership development programs and pre-primary teacher training programs to their clients.
Conclusion
Despite not having taught the IB curriculum (PYP, MYP, or DP), you should have solid working knowledge and grasp of it. Familiarise yourself with the course syllabus and assessment methods. Taking the test or reading sample papers might help you understand the subject. Tutoring might help you get used to the IB course format. Joining online courses relating to your field might help you find information and assistance.
Using them in your classroom can let you see how your pupils learn and how your craft improves. This reflection may then be utilised to comprehend an IB curriculum better. Co-curricular activities align with the IB's Creativity, Action, and Service (CAS) component.
For more valuable information visit this website