Fashion
The Latest Sweatshirt Outfit Ideas For You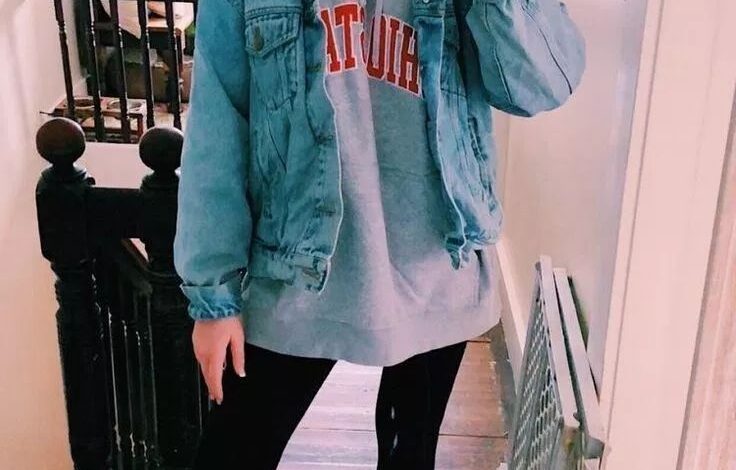 The way people wear a sweatshirt has changed over the years. Various sweatshirt designs have come, making it one of the most versatile clothing in your wardrobe.
However, choosing the best sweatshirt for the matchup is somewhat challenging with so many options available. With this in mind, we have compiled a guide to help you wear a sweatshirt in different ways.
Tips on Wearing Oversized Sweatshirt
Oversized sweatshirts are the best choice if you want to look casual or have to do a quick errand. This style is suitable for any season, whether it is cold or warm.
For women, wearing an oversized sweatshirt is both chic and comfortable. It offers more versatility than other types of garments.
How to pair it with bottoms:
Who says you can't go without bottoms? You can wear your sweatshirt with no bottoms at all! You can wear an oversized, long sweatshirt like a dress, creating a stylish streetwear look.
Yoga pants and leggings will give you a sporty look if you wear them with an oversized sweatshirt. You can go by experimenting with different colored or printed pants to add personality to your outfit.
Denim is also a great choice, and you can never go wrong with it, regardless of the fit. Denim complements oversized sweatshirts well and emphasizes your figure. You can add some texture by pairing it with acid-washed or ripped jeans.
You can pair your oversized sweatshirt with joggers if you want to stay comfortable from head to toe. You can wear sweatpants that are tapered in the ankles for slimmer fitting.
Try different matchups
Wear a pair of thigh-high boots to have a touch of sass with a class in your sweatshirt.
Choose canvas shoes or sneakers for a laid-back look. If you wear a plain sweatshirt, choose a pair of colored shoes to enhance your outfit.
Sweatshirts look awesome if layered well. Wear an oversized jacket and layer it with your oversized sweatshirt. Choose a bomber jacket if you want to look sportier.
For men, an oversized sweatshirt with the proper clothing can create a classic look and make you the center of attraction.
With bottoms
Wear your oversized sweatshirt with slim-fit pants. This can enhance your style, making you look more composed while relaxing, whether in a class or on a casual Friday.
Pair it with joggers, and you will look trendy. This style is practical but stylish. It is perfect if you want to stay comfortable while taking some action.
Oversized sweatshirts and jeans are a timeless combo. This classic look is best if you want to look cozy while getting things done. Ripped jeans are the best choice for this outfit.
Pair your sweatshirt with a pair of sweatpants for a lazy day. This outfit can make you feel more relaxed for the day.
Top it off
Wearing an oversized sweatshirt with a jacket can give you a slick, street look. Allow the waistband to come out under your jacket for extra color. Pair this outfit with a pair of fresh kicks and hairstyle for a head-turning outfit.
Pair your sweatshirt with a pair of nice high-tops for a street look. This gives B-Boy vibes while you work through the day.
Get a surfer look by pairing your sweatshirt with sandals. Whether they are slip-on or flip-flops, sandals greatly complement oversized sweatshirts. It's a perfect outfit if you are strolling down the boardwalk or having a bonfire.
Dress Up with Your Sweatshirt
Sweatshirts are one of the most underrated items to experiment with when creating a look. However, their versatility will allow you freedom of expression while having a relaxed, fashionable edge. Here are some tips.
Layered top
Choose plain, crew neck sweatshirts if you want a simple look. This is the best outfit for strolling or if you need to do some work. Simple badging and graphics can make your look more casual.
You can add some flair by wearing a button-down underneath your sweatshirt. Have the collar hang at the top of the sweatshirt while having it poked out at the bottom. You can add color and texture by rolling the cuff of the shirt over the sweatshirt's cuff.
Tip: colorful button-downs go perfectly with monotone sweatshirts. This is an excellent way to have various styles in your wardrobe.
Wear a t-shirt under your sweatshirt and a blazer over it. Allowing the shirt to peek out beneath can add more texture and color. Try experimenting with various blazers to create your style. This outfit is best for events that need a jacket, which will allow you to have a casual and innovative look to keep you composed and professional.
Layered bottom
If you can't decide what to wear with your sweatshirt, then the only answer is a pair of jeans. Which cut does not matter as sweatshirts and classic jeans are always a perfect match.
Replace jeans with slacks to put some touch of professionalism into your outfit while staying comfortable.
Pair your sweatshirt with a pair of khaki shorts for cold summer nights. Pick something that is around 1-3 inches above the knee.
Finishing touch
Watches are the foundation of your professional look. If you need to look extra professional, wear a watch with a simple band and face so it won't steal the sweatshirt's spotlight.
Wear hats and sunglasses to add extra texture and color to your look. Mind their designs and make sure they go well with your entire outfit.
Final Thoughts
Sweatshirts are just like jeans for the upper body. They are very versatile and perfect for any event and season. You can wear a sweatshirt every day, and you will never run out of style. Whether you want to look preppy, comfy, trendy, casual, or professional, you can never go wrong by choosing a sweatshirt.
FASHIONLINE is one of the best clothing vendors in the industry that sell bulk sweatshirts at a very competitive price. It provides top-notch quality items and fast delivery within 7-15 days, for prices cheaper than other wholesale platforms. Consult today to get trending items for your own boutique!