Tech
Top 3 benefits of Testing Oracle Cloud 22C Update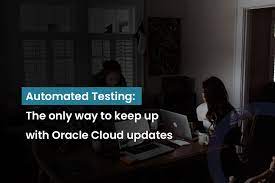 Oracle Cloud Quarterly updates always leave their customers happy, at the same time leave the QA team skeptical about testing the entire software within a short  period of time.
Although the business disruption issues due to Oracle quarterly updates are getting rare, it is recommended to test critical workflows and business processes to understand the impact of  updates on system performance or user experience. Hence, in order to make sure that the existing business processes work in harmony with the new Oracle Cloud updates, testing is a must.
But as the testing window is of only two weeks for quarterly update certification, manual testing cannot be considered as a viable solution due inaccuracy, inadequate risk coverage and high cost.  Hence a reliable test automation tool must be utilized to test the enterprise software during Oracle Cloud updates.
Before discussing the top 3 benefits of test automation, let's have a quick overview of Oracle Cloud 22C Update.
Oracle Cloud 22C updates in the Financials module:
Oracle Cloud 22C update provides advancements in sending invoices like the Intelligent document recognition that automatically converts information into email attachments for supplier invoices.
Oracle Cloud 22C Updates in the Procurement/ SCM Module
With the Oracle Cloud 22C update, you do not need to add a back-to-back requisition line to an existing open purchase order, instead you can create a separate purchase order.
The new update allows users to configure the sender name/email in supplier management notifications and also users can maintain multiple supplier emails for communicating purchase orders.
Oracle Cloud 22C Updates in the HCM Module
New Business title LOV has been introduced both on the Goals page and in performance management.
It's a feast for the HR team as the 22C update provides the ability to configure absence types to automatically reprocess absences when an employee's work schedule changes across the HCM.
Top 3 benefits derived from Oracle Cloud test automation
Accelerated release cycle : Test automation is a driving force behind continuous testing (CT). In other words, if you want to incorporate continuous testing in your environment, you need test automation. CT enables testing early, often, and comprehensively, leading to early feedback. With early feedback, QA managers can make informed decisions about the product release.
Improved test coverage: Modern test automation tools like Opkey use AI to identify tests that are relevant to the Oracle Cloud quarterly updates. It means that QA teams don't need to run the entire test suite. Rather, use of test automation tools allows testing teams to execute the minimum regression test suites based on the highlighted risk, significantly reducing their efforts and time in identifying the smoke/ regression tests to be run for every bug fix or release.
Reduced cost of defects : According to IBM the cost of fixing bugs in production is 15X more than it would in the design phase. So, enterprises need to incorporate shift-left testing principle as it allows developers to discover bugs early and fix them before they reach the production environment. Shift left requires two practices – continuous testing and continuous deployment. To incorporate "continuous testing", enterprises need to bring in test automation.
Conclusion:
For seamless adoption of Oracle Cloud 22C updates as well as to keep pace with frequent updates, enterprises need to bring in test automation. This will help business users who hardly have any time to execute regression testing by alleviating their burden and also by keeping business risks at bay.
Visit for more articles: forbesblog.org