Food
Top 7 Green Juice Recipes to Improve Your Diet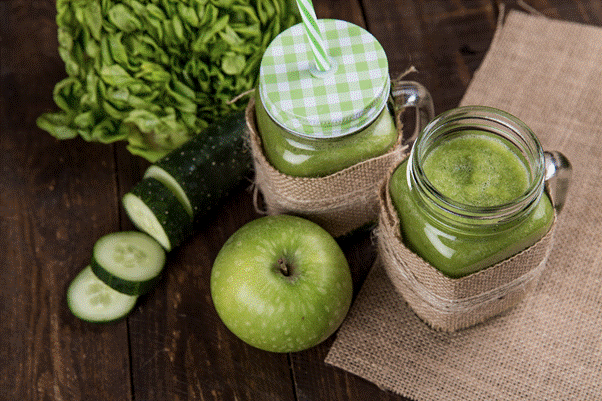 Green juice is one of the most nutritious drinks. Is it possible that a blend of vegetables and fruits is not good for health? Green juice is an excellent way to consume chlorophyll regularly. Why chlorophyll?
Chlorophyll is an excellent compound for detox or improving your diet. Almost every green plant contains some amount of chlorophyll. With so many chlorophyll benefits, people are running after its recipes. One of the best ways to consume chlorophyll is to drink green juice daily.
Gladly, we have come up with delicious green juice recipes. Continue reading and find out how to make chlorophyll water at home.
Green Apple Lemon Kale Juice
This green juice recipe is super healthy! With romaine, apple, ginger, kale, and lemon, it is delicious cleaning and detoxifying liquid.
Preparing this green juice is very straightforward. Let's go!
Ingredients
Kale
Romaine
Apple
Lemon
Ginger
Carrots
Cucumber
How to Make it
Firstly, you need to peel your lemons.
Secondly, add all ingredients to a blender along with a half cup of water.
Run the blender at maximum pace until it's smooth.
Now, you can pour the drink into a glass and enjoy it.
If you want to remove the pulp, you can use a nut milk bag.
Carrot Cucumber Celery Juice
Carrots are packed with vitamin A which is essential for the eyes. Add some cucumber and fibre-packed celery to boost your energy. To enjoy chlorophyll benefits, you can add some chlorophyll drops to it.
Ingredients
Cucumber
Celery
Pineapple
Carrots
How to Make it
Peel celery stalks and pineapple before cutting them into chunks.
Secondly, you need to wash carrots and cut them.
Add all ingredients to a blender along with a half cup of water.
Run the blender until everything is smooth
Finally, enjoy your delicious and nutritious smoothie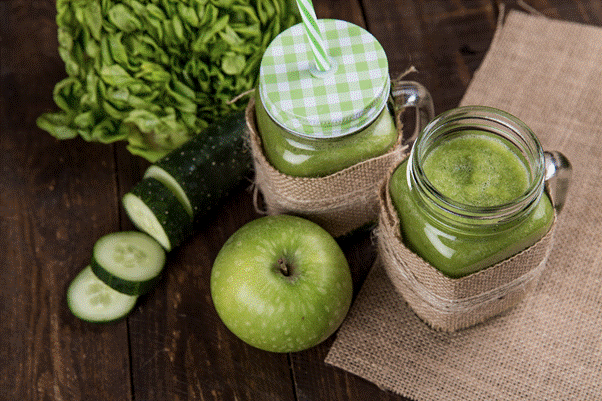 Cucumber Ginger Pineapple Lemon Juice
A combination of spicy and sweet ingredients gives you a healthy treat. Fortunately, all ingredients are rich in nutrients that enhance your health. From skin to stomach, every organ gets something from this green juice.
Ingredients
Ginger
Lemon
Pineapple
Cucumber
Honey
How to Make it
First of all, you need to wash, peel and chop ingredients.
Secondly, you need to add everything to a food processor or blender.
Add half a cup of water along with honey to taste.
Finally, run the blender until smooth.
Enjoy the amazing green liquid!
Tomato Kale Celery Carrot Juice
An entertaining drink you will remember forever. Once you taste this amazing juice, you can't start your drink without it. Most importantly, it is filled with health essentials that will provide you with energy for a busy day.
Ingredients
Lime juice
Kale
Carrot
English cucumber
Tomatoes
Cumin
Celery
Greek yoghourt
Ground cumin
Ice
How to Make it
Start with washing veggies and fruits before peeling them.
Cut them in an uneven shape.
Now, put everything in a blender along with some water.
Continue blending until smooth and a refreshing drink is ready!
Romaine Kale Parsley Juice
In this recipe, we have collected three different types of greens. Kale is rich in chlorophyll which allows you to enjoy amazing chlorophyll benefits. Other ingredients offer distinctive benefits making it a healthy treat. Moreover, it gives you a lot of energy to have a great day.
Ingredients
Lemons
Apple
Fresh parsley
Romaine
Kale leaves
How to Make it
First and foremost, you need to wash all the produce.
Secondly, you have to cut everything into small pieces. Moreover, you need to ensure that they can fit into a blender.
Add everything into a blender and blend until smooth.
Pour the juice into a glass and have fun.
Digestive Aid Green Juice
Unfortunately, most people experience digestive problems at some stage in their life. Before you try any medication, there is a natural green juice recipe that can solve your issues. More importantly, it is a chlorophyll-rich recipe. If you are familiar with chlorophyll benefits, you already know its significance. It promotes healthy bacteria resulting in better digestion. Let's dig deep into the recipe.
Ingredients
Kale
Celery stick
Fennel
Ginger root
Pear
How to Make it
Unless you are using organic ingredients, make sure that you wash and peel them.
Chop the ingredients.
Include everything in a blender and let it smooth.
Add the juice to a glass and drink while it is fresh.
Cilantro Celery Ginger Juice
This recipe is designed mainly for cilantro lovers. Cilantro is packed with antioxidants that offer unbelievable benefits. To give it a delicious touch, we have included ginger, lemon, and apple in the recipe. Not only tasty, but it is also an unbelievably healthy liquid.
Ingredients
Cilantro
Apple
Celery
Lemon
Ginger
How to Make it
Wash and peel everything before cutting them into uneven pieces.
Add everything into a blender. Moreover, add half a cup of water
Continue blending for two minutes or until smooth
Serve right away!
Bottom Line
Green juices are extremely nutritious and offer a range of health benefits. Most green juices are rich in chlorophyll. To get maximum chlorophyll benefits, you can add some chlorophyll drops to get the recommended doses.
Chlorophyll detoxifies your body and improves overall health. Its antioxidant and anticancer properties are extremely vital for humans. Add these green juices to your diet and live a healthy life.
While making green juices, you should always peel veggies and fruits unless you are using organic produce. Moreover, try to consume fresh juice. If you want to store green juices, remember they can survive three days in the fridge and 7 days in the freezer. Make sure that you stone them in a sealed container.