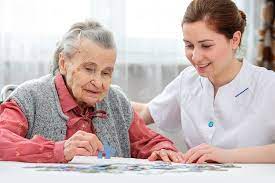 Memory care is a type of long-term care designed for people who are living with progressive degenerative dementia such as Alzheimer's disease. It is an ideal choice for seniors who may require more support in comparison to that which is offered at a standard assisted living facility. This is because when somebody has advanced dementia, it can be dangerous for them to be on their own at home. Memory care facilities offer a safe place to live that is designed to protect residents from harm and ensure that they can't wander off and hurt themselves.
What Services Does Memory Care Provide?
If you're looking for memory care near me for a senior relative, then you might be wondering what kind of services you can expect to be provided for them. Most memory care facilities will offer the same services that you'd expect from an assisted living facility such as private accommodation, food provided throughout the day in a dining hall, housekeeping services, recreational and social activities, fitness and exercise facilities that are suitable for seniors, and more. Residents will usually be provided with a medical alert system, and assistance is provided when necessary, with everyday activities and tasks.
Memory Specific Services
Along with the above, a memory care facility can be expected to provide a range of services that are specific to residents with dementia and are not usually on offer in assisted living facilities. These include anti-wandering systems to prevent residents from harming themselves, round the clock security, more assistance with everyday living activities, more staff for each resident, and daily therapeutic recreational programs like brain games for both individuals and groups.
What to Expect from the Move
If you are considering moving your senior parent or relative to a memory care facility after they have begun to show some of the signs of dementia or have been deteriorating for some time, then it's good to know what to expect. For the most part, a memory care facility will look and feel quite similar to a normal assisted living community or a retirement community. You will usually find one or more dining halls or rooms where residents eat meals, common areas, fitness centers, lounges, game rooms, and more. Residents will often have access to gardens and courtyards, and other secure outdoor spaces.
Security Concerns
Naturally, if your parent or senior relative is struggling with dementia, then you might be worried about the risk of them getting out and wandering off or harming themselves while living in a senior facility. Memory care facilities are designed to prevent residents from coming to any harm with a lot of services and facilities in place to do this. Security is on site around the clock and there are alarms, motion lights, and in some facilities, curving walls designed to keep confusion to a minimum.
While many of us would like to care for parents or relatives with dementia for as long as we can, sometimes the best thing to do is to move them into a facility where they will be safe and looked after. Memory care facilities are designed specifically to ensure that people with dementia have a great quality of life.