Business
Why Knitting Is A Good Business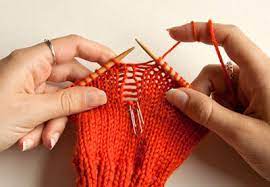 Knitting is now used to make almost everything you wear against your skin every day, from socks and t-shirts to pants, hoodies, and beanies. And, thousands of years after it was created, new types of knitting technologies are ready to dramatically change how we think about the basics of knitting. To be precise, computer technology has helped us link our bodies to the digital world.
Let's look at a short history of knitting before learning how to venture into this business.
The History
While weaving was most likely the original type of fabric clothing, one of the oldest surviving examples of fabric clothing is a pair of socks made using the nlbindning method. This was an early kind of knitting that used one needle instead of two.
Imagine putting your rough feet into silky, knitted socks after a lifetime of walking on rough sand and rocks. It revolutionized everything.
Automation of knitting machines happened during the industrial revolution. The industry contributed to the creation of wealthy communities while also contributing to the enslavement of others. In other parts of the world, the textile industry sparked wars and revolutions.
Either way, the industry remained resilient over the years, changing for the better as years passed. Today, it's a huge and lucrative industry.
Why Start a Knitting Business?
When you think of work from home jobs, what comes to mind is you sitting in front of a computer in your designer home office. But the other side of that picture is creating a physical product while in the comfort of your own home – knitted wearables.
Starting your own knitting company takes a significant amount of preparation. So before you start thinking about knitting, make sure you've covered the fundamentals of home-based enterprises, such as deciding where you'll conduct the work, drafting a business plan, working out a tax strategy, and buying the knitting supplies you'll need to get started.
Several factors are unique to arts and crafts enterprises, and it's a good idea to also think about them before you go too far into your planning.
3 Golden Tips For a Successful Knitting Business
The following tips can help your knitting business succeed:
1. Focus on Quick Makes
The key to a successful knitting company is to keep the tasks short and straightforward. If you spend a lot of time on large or sophisticated items, you should charge a lot more. Otherwise, your business will fail. Making small items out of high-quality materials, on the other hand, implies devoting less time to each piece.
2. Choose your Favorite Material
Even if you want to knit a simple item, using material that you're proud of will ensure quality end products. Don't settle for cheap materials; think of wool, organic cotton, silk, natural dyes, among others.
3. Your Market
You need to understand your market needs, and how to reach it. For example, making traditional African attire in a black-dominated community is a good idea. However, making sweaters to sell to people at the beach makes no sense.
To have a successful knitting business, you will need the skill, the capital, and the ability to discern who your market is. Once you have these figured out, the limit is the sky.