Marketing
4 Of The Best E-Commerce Marketing Strategies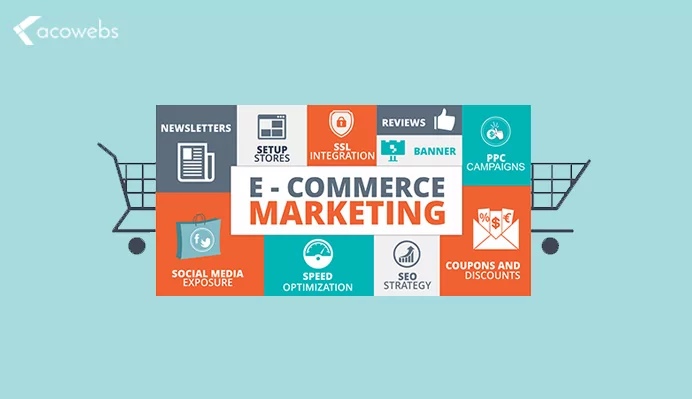 The main purpose of e-commerce marketing, in short, is acquiring and retaining customers.
E-commerce marketing strategies are essential for the growth and success of your business, helping you to generate more brand awareness and traffic for your website.
As a result, e-commerce marketing strategies are useful for converting that traffic into more customers.
4 of the best e-commerce marketing strategies are:
Search Engine Optimisation (SEO)
Email marketing
Social media marketing
Video Marketing
Search Engine Optimisation (SEO)
One of the best e-commerce marketing strategies, undoubtedly, is Search Engine Optimisation.
To put it simply, Search Engine optimization, also known as SEO, is the process of making changes to your website for the purpose of increasing the amount of traffic that your website receives.
Although SEO can be overwhelming to understand, it's relatively simple once you break it down. SEO can be improved in four ways: through keywords, content, technical as well and links.
The customer is already searching for what they want on Google, and 94% of searchers skip your search ads and scroll down to organic results.
If you've improved your SEO to help your website rank higher on Google search pages and offer what they're looking for, they'll find your product or service.
If your business can master SEO, or you have the means to outsource an SEO agency to do the heavy lifting, then you will see an exponential increase in website traffic.
Email Marketing
Email marketing is one of the strongest e-commerce marketing strategies there are. In fact, as many as 87% of marketers use email marketing to disseminate their content.
Through email marketing, the customers on your business email list are made aware of discounts, new product releases, as well as other important brand updates that you want them to know through personalized emails.
Email marketing helps to keep your audience up to date with the brand. They can be both promotional and informational, helping to generate more sales in a cost-effective and informative way.
This e-commerce marketing strategy can also help you to connect and engage with your customers between purchases, reminding them of upcoming events and releases.
An email marketing campaign might consist of 3 to as many as 10 emails sent over several days to remind you of an important event or big sale that is going on, such as the Black Friday sales.
These reminders keep them in the loop but also entice them to spend more whilst a deal or sale for your products or service is going on, thus helping to generate more sales for your business.
Social Media Marketing
Social media marketing has become an increasingly popular e-commerce marketing strategy, and when you look at the figures, it's easy to see why.
As of 2022, there are 3.96 billion social media users worldwide, and 89% of marketers use it to generate awareness, promote, and inform their audience of their content.
When you have an understanding of those figures and imagine them as potential customers, it places emphasis on the importance of social media marketing and how, for a business, it's an opportunity that you definitely don't want to pass up on.
Investing in social media marketing is essential for brand awareness and promotion. In addition, it allows you to engage and interact with your target audience, building a rapport and relationship with them that they wouldn't otherwise have.
Popular social media sites that you should focus your efforts on include Instagram, Facebook, Linkedin, and Twitter.
These are all powerful social media apps with billions of users worldwide, so it's the ideal opportunity to capitalize on their reach to generate interest from new and existing customers for your brand.
Video Marketing
Lastly, video marketing is an e-commerce marketing strategy that has great potential, provided it's used in the right way.
YouTube is the most popular video distribution platform on the internet. To put that into perspective, over 2.6 billion people worldwide use YouTube at least once a month. That's a lot of potential customers that you could be interacting with.
Through video marketing, you can use YouTube's reach to appeal to a wider audience and grow your business.
Research and plan compelling and informative videos that help to narrate what your business does and why your target audience should care.
Posting your videos on YouTube allows people to view, like, comment and share your videos to other social media platforms. They can also interact and ask questions in the comments section, helping to contribute to the community and nurture the connection that you're building with your audience.
Written by Jemima Thomas for XXXXXXX on behalf of Velocity Juice.