Travel
7 Beautiful Towns in Brittany That You Must See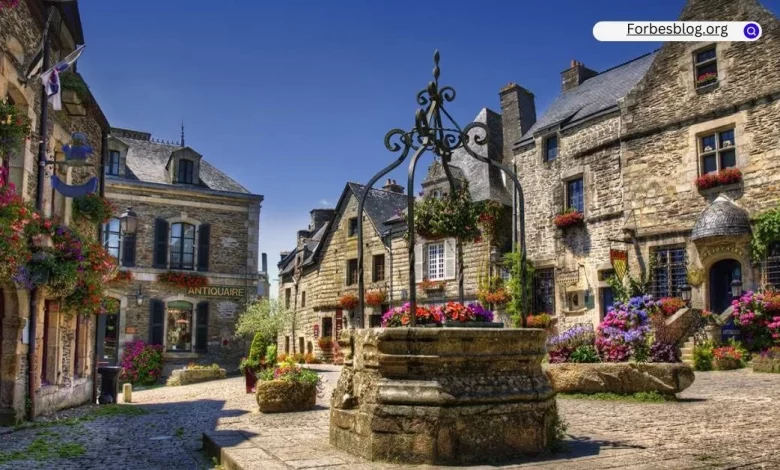 Hey vagabond, want to explore some beautiful towns in Brittany with us? If you are a frequent traveler, who always looks for some offbeat places to visit, then probably this article and you are made for each other. Seven breathtaking towns in Brittany are eagerly waiting for you so that you can adore their beauty and have unforgettable experiences. 
As we all know, Brittany is blessed with beautiful landscapes, marvelous architecture, and natural resources. Its small and beautiful towns depict the beauty of France's culture and heritage. Being a center of diverse cultures and ancient architecture, Cairn of Barnenez and The Tumulus of St. Michel are some of the prime examples of its culture, values, and heritage. 
Brittany has many small but picturesque towns in France that are enough to make your social media feed more vibrant and happening. Once you visit the small towns in France, you will fall in love with the beauty and generosity of people. Locals are very kind to visitors, and they try their best to make a safe and secure atmosphere for you. 
Now without wasting your time, let us start with the list of:
 7 Charming and Prettiest Towns in Brittany
Auray, The Land of Alreens
Auray is a beautiful Commune in France, the inhabitants of Auray are called Alreens. This lovely town is known for its historical half-timbered house, cobbled streets, and breathtaking harbour, Saint-Goustan.
Nowadays it's a yachting harbour with countless bars and restaurants, an annual oyster festival, and regular craft and book fairs. This beautiful harbour town has become one of the central attractions for tourists; as it provides the best travel experience to visitors. 
Top sights to see in Auray
Saint-Goustan Port,  Church of St Gildas, The Town Hall, Chapel of Notre-Dame-de-Lourdes, Auray monastery
Best time to explore the Auray Town
April, May, September, and October are known to be pleasant months to explore the charm of the town. 
Carnac, A Town of the South Coast
Carnac is another beautiful town in Brittany, known for its lavish landscapes and picturesque streets. If you are interested in historical places and want to go back in time then this place could be the best option for you. This place beautifully preserved Stonehenge. All Stonehenge looks like England's Stonehenge. 
Carnac stones are one of the most immeasurable Neolithic menhirs collections in the world. It also has some of the most beautiful beaches that are best known for sunset views. 
Top sights to see in Carnac
Lake Étang du moulin du lac, Saint-Colomban beach, Bihan Plage beach, Beaumer Plage beach,  Grande Plage beach, Men-Du Plage beach
Best time to explore the Carnac Town

During July and August, Carnac Town is on its high charm 
Dinan, a Town Near River Rance
Dinan is one of the prettiest towns in Brittany. This town is situated on the bank of river Rance. This is the medieval town on the hilltop with various fine old architecture, some of which date from the thirteen century. It is one of Brittany's well-preserved medieval-walled cities.
Dinan is also known as the Town of Art and History and always supports craftspeople and local artists through its weekly market (Place du Guesclin).  
For the picturesque landscape and well-maintained architecture, Dinan is an ideal choice of a tourist destination. For a calm and relaxing spot, Dinan has a full power pack of things to offer you. 
Top sights to see in Dinan

Flamboyant Gothic St Malo's Church, Château de Dinan.Romanesque St Saviour's Basilica, Duchess Anne's Tower, Jacobins Theatre
Best time to explore the Carnac Town

Late spring to early summer; May & August 
Locronan, a Stunning, Scared village 
Locronan is the most stunning town/village in Brittany. It lies in the North-western region of France. It was also home to the legend of Saint Ronan, after whom the town got its name. 
You will be amazed after knowing that Locronan town is on the list of the most beautiful villages in France. For its breathtaking landscapes, clean streets, clear water streams, and best hospitality, Locronan is a prime choice for every backpacker. 
If you get a chance to visit Brittany, you must visit this beautiful town. Its charm and beauty will fascinate you. It gives you an unforgettable experience that remains lifelong with you. 
Top sights to see in Locronan

Troménie(Pilgrim festival), Chapelle ar Sonj, Plage du Ris, Tristan Island, Forêt du Duc, Un jardin à Landrévarzec
Best time to explore the Locronan Town

July to September are ideal months to experience the breathtaking views of the Locronan Town
Paimpont, a Town in Northeastern France
While you are on the visit to Paimpont, you will encounter the legendary forest of Broceliande, which was supposed to be home to Wizard Merlin and The King Arthur. This town has many trails that lead to the ancient forest. You can explore this forest on a guided tour or solo. 
Although the Paimpont is a small town in Brittany it has a significant role in promoting tourism in Brittany. The tiny streets and the old aged house attracts several tourists from different parts of the country. 
Top sights to see in Paimpont

Siege de Merlin(Ridge), La Foret de Broceliande(Forest), Château de Comper – Arthurian Centre(Castle), Brocéliande, the Gate of Secrets(Museum)
Best time to explore the Paimpont Town

May to September is the best time to visit Paimpont town. 
Ploumanac'h, a Village Port
Ploumanac'h is one of the charming towns in the Brittany province of France. It is on the Pink Granite Coast in Northern Brittany. This small town is known for its great beaches such as (Priests' Beach), and Pink beach. Pink Granite rock formations form an unusual shoreline. In 2015 this lovely town was voted as the village most preferred by the French. 
Its lovely location,  Côte de Granit Rose coast, and pink granite rocks add more charm to this place and make it a most Instagrammable place among tourists. 

Top sights to see in Ploumanac'h

Tidal Mill, Ploumanac'h Lighthouse, the chapel of Saint Guirec
Best time to explore the Ploumanac'h Town

May to September is the best time to visit Ploumanac'h town.
Pont-Aven, a Colorful Town in Brittany
Pont-Aven is known as the town of artists. The whole town is so artistic and vibrant in nature. For travelers and photographers, this lovely town has picturesque landscapes that loaded their cameras with breathtaking pictures. This town is in the Finistère department of Brittany in northwestern France. 
Pont-Aven School of painters operated from the 18th to late 20th century. Nowadays, this school has become the center of attraction here.  Paul Gauguin and Émile Bernard were the finest and world-known artists that were associated with the Pont-Aven School of painters. 
Top sights to see in Pont-Aven


Aven park, Chapelle de Trémalo, Musée des Beaux-Arts de Pont-Aven (Museum), Galerie Izart (Art Gallery), Château de Rustéphan (Castle)
Best time to explore the Pont-Aven Town
Late spring to early summer; May & August 
How to Reach Brittany? 
Brittany is a province of France. Being a world-class tourist destination of France, Brittany is well-connected to the rest of the world via air mode. Locals can explore the town through local buses and private taxis. Well, Brittany has several international and domestic airports that connect Brittany with other parts of France as well as the world. Brest Bretagne Airport, Quimper-Cornouaille Airport, Lorient South Brittany Airport, and Lannion-Côte de Granit Airport  are some major and nearest airports that help you to reach Brittany.
Is Brittany's Town Worth Visiting? 
In the whole world, France is the best destination for all age groups. From exotic beaches to historical places, France has everything that a perfect destination requires. Brittany is a beautiful part of France that beautifully holds the beauty and history of French culture. Its magnificent architecture, monuments, mythical places, and forests make it a worth visiting place on the earth. 
Once you reach there, we bet you that you never want to come back from Brittany. So what are you waiting for? Pack your bags, book your flight to Brittany and explore the offbeat town that nourishes your wanderlust.