App/softwares
Everything You Need To Know About Choosing The Right Cleaning Software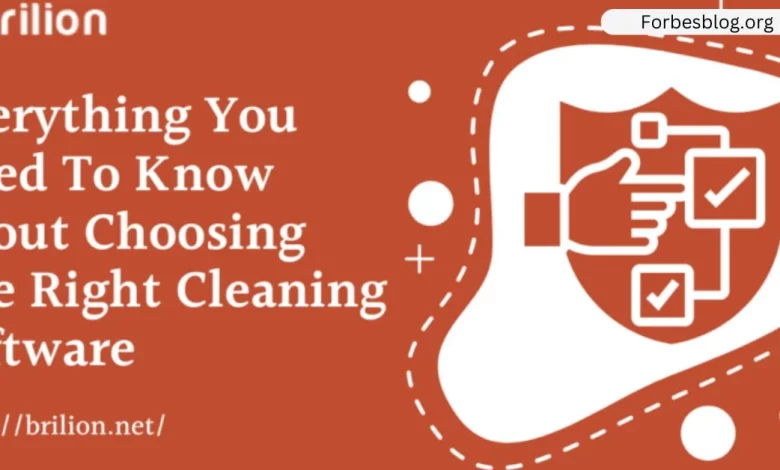 Internet and technology have truly transformed the world in the last decade. There has been so much development in almost every business field. People rely more on phones and computers for learning new things, entertainment, ordering food or booking cleaning services. Business in terms of technology is no exception. Having a management app that helps businesses save time, automates repetitive tasks and increases profits is something every company will want. It is a must these days as it ensures long term success, especially when you manage or own a business in a really competitive cleaning industry. Cleaning software is getting popular in the cleaning businesses. But not every software is worth spending money on. Here are a few factors you must consider before going for cleaning software for your cleaning business.
Essential Factors to Consider in a Cleaning Software
When choosing a cleaning software, the single question is, "who is it made for?" There are several general-purpose software available in the market. But as the cleaning business presents several unique challenges that just can not be pulled off by the jack of all trade solutions. Therefore look for an app that is built especially for your cleaning business. The app of your choice for your cleaning business must include the following features: –
Job Scheduler – Firstly, your application must equip with advanced job scheduling features. It must allow you to view the day to day jobs based on cleaners, cleaning teams, job time and client details. You must easily book or reassign jobs, access the customer details and information, add customer tags, and much more. Job scheduling allows you to manage everyday tasks easily and keeps all your workers on the same page every time.
Client Engagement – The main purpose of using cleaning software for your cleaning business is to provide convenience to your customers. Your management app must keep that in mind and enable your clients to easily and quickly update their contact and payment information, set the alert, notification choices, and options to add reviews and feedback without issues. The customer-related functions of the app must also include pricing and invoices that are readily available and allow the clients to adjust the cleaning notes and details so that they get the service the way they desire.
Staff Engagement – A great cleaning application will have a comprehensive dashboard for its employees that will allow them to check-in and out, request time-off, etc. It must also be a platform where all employee activities, be it time spent on travel, jobs, or work brakes will be documented. It will help you keep an eye on what your workers are doing to ensure maximum productivity. Along with making everybody's job easier, it will also increase the employees' job satisfaction. That is because it simplifies communication between them and the management team and streamlines their daily tasks.
Why is a Cleaning Software Beneficial For Your Business?
A cleaning business requires no jaw-dropping technology. But if you are a small company looking to expand your business and want to cut the cost of operations without sacrificing the quality of the services, maybe cleaning business software will help you. Here are a few reasons why you must opt for a cleaning business software for your cleaning business:-
It Saves Time
If you are an entrepreneur, it is very common that you to handle a large number of tasks at one time. But it is not easy to manage everything single-handedly. But hiring more employees will cost a lot of money. So, the best option is to go for janitorial cleaning software.
The cleaning applications: –
Allow you to view the cleaners remotely.
Provide you with accounting and management functions.
Keep the data safe and secure and stored in an accessible location.
Stronger Communication
Communication is very crucial in a cleaning business, especially if you are planning to expand it. But always remember communication does not always include customer service. Internal communication is something that matters the most.
Having twenty missed calls from your clients and a full mailbox does not give a good impression. Also, it is not easy to manage all the messages from the clients asking for quotations. A business' goal is to establish a reputation in front of the clients that will not be possible if you do not manage everything with smooth communication. A cleaning application can:-
Filter and sort the important and urgent messages.
Create a customized plan based on urgency.
Back up all the calls, messages and emails.
Improves Employee Retention
Having commercial cleaning software will help you retain your employees. Most cleaning companies have trouble retaining employees for a long period. Not a lot of people get interested in doing jobs in the cleaning business. That is why it gets hard to hire new cleaning employees. So it is better to keep the existing ones happy and content.
Some cleaning programs allow the workers to give feedback without disclosing their identities. This way, the employees can give suggestions on how to improve their working conditions, etc. Your employees must feel welcomed and valued. They should feel that they matter to the company and be recognized for their achievements. That can be possible with the help of cleaning software.
Helps in Winning More Contracts
According to research, around 70% of the cleaning companies lower their bid to win more contracts. There is huge competition in the cleaning industry, and the rivalry for the price is getting bigger and bigger. So to close a bid without sacrificing the prices or the quality of the services, you need to opt for janitorial cleaning software. The software will showcase precise and accurate bidding and will display your services in the right way.
Freshly introduce your company.
Allows you to upload before and after pictures and videos after your services.
Show testimonials and proofs of successful cleaning projects
Conclusion
By incorporating a cleaning business software for your cleaning business, you would be able to grab several opportunities and benefits. If you need high-quality management software created for your cleaning business, Brilion would surely be the right pick for you.