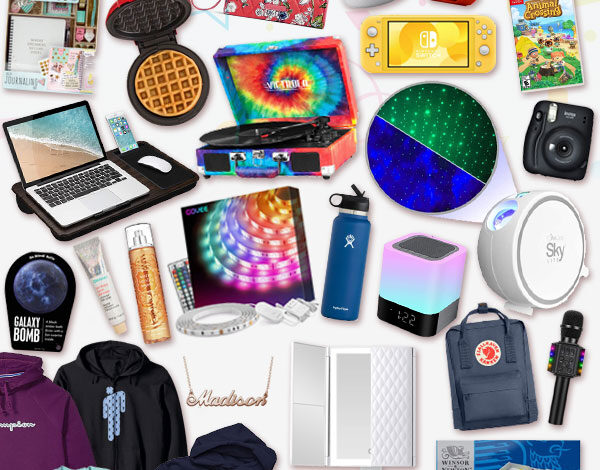 Every teenager will look forward to their birthday; this is a perfect time to show her you appreciate their presence. Make it a point to gift her a memorable experience from our various options.
1. Happy Birthday Chocolate Pizza
What greater way to enjoy a birthday than a delicious pizza, made of a Belgium chocolate base, and topped with a white chocolate heart and edible daisy?
2. Marshmallow Toasting Kit
If she enjoys camping, then this 2-flavored marshmallow kit will be ideal or her. The kit comes packaged with a non-harmful, smokeless, and odorless gel burner.
3. Cinema Light Box
The lightbox comes with 90 characters and symbols, and thus you can get creative with words and write a special personalized text. Also, the gift may be used for interior decorating by mounting on a wall or table.
4. 24 Carat Gold Rose
If she loves preserving memories or a collection of some sort, and then this real rose dipped in carats will fascinate her.
5. It's My Birthday Rainbow Headband
If calling out for attention is the grand plan for her birthday, this headband will work just fine. However, this is only an accessory, not a gift that will stand out on its own. Let her wear it while she is in her party or an outdoor treat.
6. Unicorn Nail Polish
If beauty is something she fancies, try getting her this nail polish customized with a unicorn look and make a step further and help her do her nails before her party.
7. Girl Power Card Game
Inspire her to embrace femininity in the teen years by gifting this card game. The idea is to collect as many female names in a given category in a given time and then snatching a pioneer from the center, perfect for 15-year-olds and above.
8. Bluetooth Shower Speakers
Inspire her singing career this birthday by getting her either the silicone shower speaker or the Bluetooth Shower Speaker. The two are waterproof, and they are perfect or sing-alongs in the shower.
9. Make Your Own Dough Unicorn
This kit enables you to create your personalized unicorn. Create a bonding time with your 13-year old and create her pet. The kit comes with five variants of dough, molding tool, and pearlescent glitter.
10. Grow Me- Happy Birthday
Make her wishes grow with her with this amazing gift. The kit comes with honeysuckle seeds, a coconut husk starter pot, a wooden marker, and a coconut husk disk. If she is a plant lover, watching the plant's growth will be heavenly.
11. Make Your Cardboard Karaoke
Let her feel that you appreciate her singing capability and boost her self-esteem with this board. It's easy to assemble, and she will appreciate it every time she plays her favorite tune.
12. Smartphone 3 In 1 Lens Set
This is the time that your teen is discovering and appreciating nature. If she loves photography or recording memories, motivate her with these three lenses. The lens is compatible with any phone, comes with a pouch and lens cap.
We understand that deciding what will intrigue the teenager is quite a task, and the above list is not exclusive to gifts for a 13-year-old girl. However, If you still don't find any appealing gift, you can choose to personalize it.
For more articles visit this website