Technology
How do you make a virtual event interesting?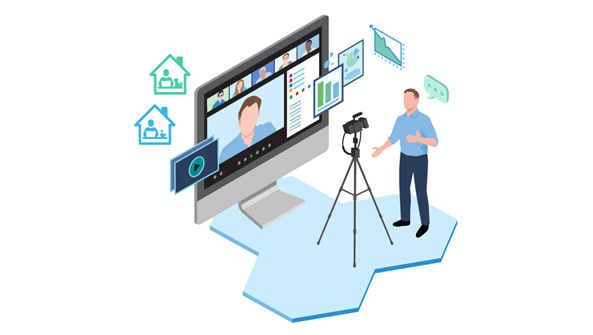 As more and more businesses pivoted to virtual events in recent times, the competition surrounding them had exponentially increased. Today we see many virtual event platforms delivering best features according to the market demands. But is selecting the platform enough for making your event stand out effectively in 2021?
Of course, it is not enough! There is so much more before you kick off with your virtual event. For starters, how will you attract participants if your content is not interesting and engaging. So to eliminate the tension, we have mentioned some thrilling ways to make your event exciting and worth trying! Time to get started!
Social photo booth
Earlier when traditional events were greatly in-demand, clicking photos for the event memory was so much doable. But except for the look and feel of the event, the other things remain the same in a virtual event. Now you can have a phenomenal photo booth at your virtual event too. Ask your service provider to give you personalized templates. These templates come from a different set of backgrounds making it more fun for the attendees. Apart from that, attendees can also capture videos, make fun GIFs, and share the images at their social media accounts.
Yet another excellent way to make virtual events interesting is by adding a leaderboard challenge. This will boost engagement and motivate attendees to participate more to gain reward points. A leaderboard also gives a sense of competition among other attendees while also allowing them to explore the overall platform. To intensify the challenge, you can declare exclusive prizes for the attendee who gets the maximum points in the event.
Sponsors are an integral part of online events. For you to reach maximum attendees, allow sponsors a slot to conduct a session regarding their brand and new products they are willing to offer to the wide audience. This benefits both the parties equally as sponsors get to showcase their latest offering to a wider segment of the audience while you as an organiser get to invite and connect with more people within the platform.
While creating a session for your sponsor, help them draft a message that stimulates the objective behind hosting an event and also enabling them to highlight their offerings as well. This will make sure that the sponsored sessions are advantageous to all investors.
4. Custom avatars
Including an avatar at your virtual event can be a great way to excite your virtual participants as this might be a complete new experience for them. This also means you provide better engagement at your platform. A place where participants can communicate, customise their look as per them can thoroughly hook them at your event for life long, isn't that fascinating? This gives attendees a more personalised experience.
If your platform elevates pre-recorded sessions of your keynote speakers at your event then it's definitely a cherry on the top. How? Well, incorporating a session recorded ahead of time can permit you to edit and add on additional graphics which saves time and energy during the event. This virtual event idea eliminates the room for any error to occur while enabling the organiser to curate the highest quality broadcast.
Many times, due to time zone differences attendees are unable to attend your event. But does that mean we compromise on our valuable participants? Absolutely not. This virtual event idea enables a host to increase the time limit of an event even after the event is concluded. This means attendees who were unable to join the session can conveniently watch the session from the start or skip to the part which they want to catch. Besides that, keeping an on-demand session can also offer qualified lead generation even after the event has ended! How exciting is that?
A great way to tune in more sponsors and enhance audience participation is by conducting sponsored giveaways. They provide attendees an opportunity to win exciting prizes offered by the sponsors. This maximises engagement while also a sense of competition among the participants as the winner gets gifts and sponsors get to reach more audiences globally at the end of the session.
As we know, hosting an event in a virtual environment comes with a lot of complicated challenges for event organisers. It is important to take majors that remove all the tension and curate an engaging session of all time. Distraction is one of the basic elements that might take place and you may lose attendance. To avoid that, engaging session tracks can be your saviour! How? Well, a seamless session track permits any attendee to walk through the event agenda and pivot only those they are interested in. This will allow attendees to stay longer at your event while offering you valuable feedback after the session ends.
Ask your event provider to incorporate AI powered matchmaking functionality at your event that allows attendees to interact with people having the similar ideology as them. This will provide an opportunity for attendees to focus only on the track or navigate between them to personalise the experience they wanted to take away from your virtual event.
Over to you
The impact of covid-19 was massive especially on the event industry. But as time passed, virtual and hybrid events became more and more prevalent and will continue to be in the limelight in the coming years. 2020 taught us many important lessons, one amidst all is adapting with the fast evolving era and living in a world where things keep on changing and upgrading.
To keep up with the new normal, it is vital to transform ourselves to a digital environment. It's for the best as the world is only moving forward with new technologies coming our way, we need to buckle up. Fortunately with these top ideas listed above, you can definitely make your next virtual event fun and interesting. Ensure that you follow every step wisely to curate a successful event of all time!
Happy hosting!

For more articles visit this website