Game
How to Style a Retro Games Room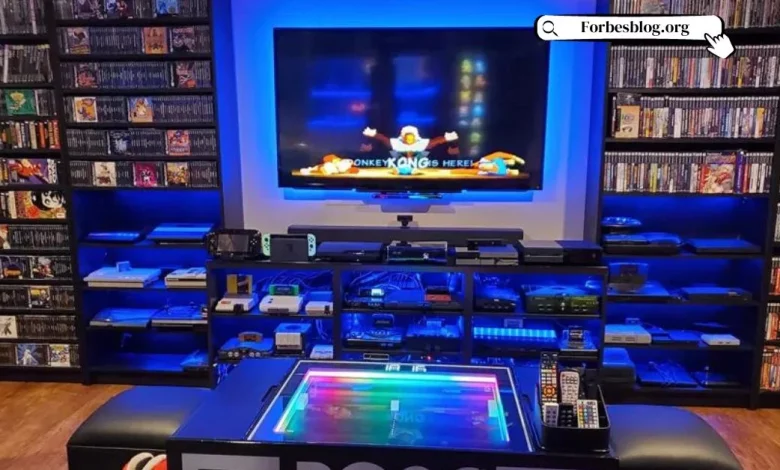 If you have a spare room in your house and you're a gaming enthusiast, then you might have already decided to transform this area into the perfect gaming den for you and your friends to enjoy. While getting a TV, a good sound system, and comfortable seating is a must, there are ways you can take your games room décor up a notch and transform it into a truly fun space that pays homage to the arcade games you might have enjoyed as a kid. If this sounds like something you would be interested in, read on for more tips on how to style the perfect retro games room.
Darker Color Schemes
If you want it to feel like you're walking into an old-school arcade when you enter the room, opting for a darker color scheme is a good idea. This doesn't necessarily mean all of your walls have to be black; dark blues and purples could work well for this too. You can also consider painting a mural, graffiti, or another retro pattern on the walls in luminous paint for the perfect final touch.
Neon Lights
If you are going to use luminous paints, you'll need the right lights to bring them out. Investing in a UV or Black Light will be essential for this, but if this is not a décor choice that you're overly interested in there are a few other lighting options to explore. For example, neon signs can certainly help you to feel like you have stepped back in time and can create an old-school 80s feel if you choose the right colors. Alternatively, you can use LED lights which are very energy efficient and place them behind the TV as a backlit illumination for your games or run them around the edge of the ceiling to help the whole room glow. Consider getting ones that change color for a more interesting, playful effect.
Get Some Retro Games
No retro games room would be complete without some classic retro games, so you need to make sure these are included! However, as cool as it would be to have the big arcade machines in your games room, they are very bulky and if you do have limited space this isn't ideal. That doesn't mean that you still can't bring some of your favorites back though, just look at this guide to raspberry pi emulators to find out more. You could even think about getting a foosball table, air-hockey table, or pool table if you have the space in your games room and would like to have some alternatives to video games.
Comfortable Seating
As mentioned previously, you need to have comfortable seating if you're going to be able to enjoy a long gaming session alone or with your buddies, as well as seats that are going to give you the right support to help with your posture. For the latter, investing in specially designed gaming chairs is a good idea, but if you would prefer a couch or armchair set-up, think about choosing ones that also match this retro style you're trying to achieve. You can likely find furniture that suits this style at second-hand stores or online sellers, which could also help your budget.
Snack Bar
Again, this will all depend on how much space you have in your games room, but if it can accommodate a little snack bar or corner this would be an excellent addition. Put in a mini fridge to keep bottles of water, soda, and even some beers cool for you and your guests while you're enjoying some gaming time. This can also be used for certain snacks, but you could also have jars of sweets, nuts, packets of potato chips, or even healthier alternatives if you prefer in this area. Think about illuminating your snack bar area with a neon sign for the final touch.
Black Out Blinds
It's always good to have the option of letting some natural light into your games room and some fresh air, as you will need this to help take care of your overall wellbeing. However, for the times when you or your friends are over for a gaming session and you want to set the right atmosphere, it would be great if you could block out the sunlight and escape into your homemade retro arcade space. Blackout blinds are ideal for this, and they aren't that expensive to invest in either.
If you are thinking about how to style your games room and you would love to get a little bit nostalgic, consider these tips to help you kit out the perfect retro games room that you can enjoy for years to come.
Visit for more articles: forbesblog.org