Travel
Most popular trekking trails to the base camp of Mount Everest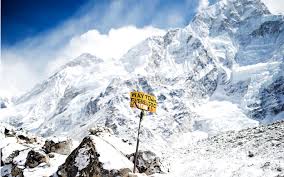 Hiking to Everest Base camp is a must consideration. The beauty of Mount Everest, the highest peak of the world, altitude of 8,848 meters, is a wholesome feeling. A trip to Mount Everest will surely amaze you with its eye-appealing views. Mount Everest, also known as Sagarmatha, lies in the Solukhumbu district of Nepal. The attractive Solu village is rich in culture and vegetation. The ancient Sherpa residing has contributed a lot in creating the history of Mountaineering in Nepal. Everest came in fame after the climb of Sir Edmund Hillary and Tenzing Norgay Sherpa in 1953.
The Sagarmatha region is where the Sherpa follows Buddhism and Tibetan culture. The area is rich in tradition, festivals, and different species of plants and animals. The land is protected under Sagarmatha National Park with varying villages of people following different ethnicity. Apart from cultural diversity, the region is worthy of natural resources. Distant peaks, rivers, rhododendron forests, spring falls, and many other things make the area an absolute beauty.
Trekking in the Everest region will surely give you a mesmerizing experience. The hike will take you to places outside of your comfort zone. Different trails of Everest will provide you with various adventures and knowledge.
Everest region offers every kind of travel package in Nepal. Some of the exciting trekking trails are listed below:
Everest Three High Passes Trek:
The Everest three high pass trek is in Solukhumbu district, an excellent trekking trail of the Everest area. This journey includes different peaks and slowed-covered passes. The walk takes almost 20 days to complete. Most of the famous hiking trails are covered by this trekking route. Many remote villages like Nangpa La Valley, the Sherpa village of Marlung, and the monastery village of Thame are introduced by this route.
You will get an opportunity to know the sheltered life of Nepal. The trip can be one of your adventurous journeys as you will pass through diverse up hills, peaks, and challenging roads. The major highlights of this trip are authentic Sherpa villages of Chhukung, Lobuche, Namche Bazaar, Tengboche, Gorakshep, Dragnak/Thangna, Lunden, and Thame, along with Gokyo Lakes and Gokyo RI. Everest High Pass trek starts as soon as you land in Lukla and passes across Everest Base camp and different mountain peaks. As this journey takes you through high altitudes and remote places, you should be physically and mentally fit.
Autumn and spring is the best time of the year to trek around the region. The vast and beautiful rhododendron forest welcomes you in your path. The area suffers from heavy snowfall in winter and blocks the trails; hence it is challenging to trek. You can join this trip through this link: https://nepaltrekkingtour.com/everest-three-high-pass-trekking.html
Everest Base Camp Trek:
Trekking to the world's highest mountain peak base camp is not underrated. This trekking route is one of the well-known hiking paths across the globe. Many national and international tourists wish to trek up to Everest's base camp. The journey starts from the famous Lukla and ends in the Khumbu. This trek might take you more than a week to complete. You will pass through authentic villages like Namche Bazaar (Trade center of Khumbu), Tengboche, Lobuche, Phakding, and Gorakshep. You will have an extraordinary chance to explore Sherpa culture and food while traveling.
The vintage Kalapatthar has the world's highest-altitude hotel where you can enjoy your stay. This trekking trail has been developed a lot, and hence there won't be any difficulties in staying.
Autumn is supposed to be the best season to follow Everest Base Camp. Journey for the base camp in winter and Monsoon season should be avoided as it is freezing in winter and slippery in Monsoon.
Everest Helicopter Ride:
Everest Helicopter tour is a famous helicopter ride in Nepal. It takes 35-45 minutes to reach the base camp from the capital Kathmandu. The 360 sight of Everest is lovely and will surely catch your heart. You will fly from the heliport to the Everest base camp. However, you will have an aerial view of unique villages but not experience the culture and warm hospitality.
This tour is perfect for people with limited time and who cannot walk enough distances. The trip can also be counted as a luxury trip to Everest. The benefit of traveling on a helicopter ride is you can travel in any month. However, the helicopter does not take a ride in the Monsoon. The trip is quite expensive compared to other regular travel. Join this trip: https://boundlessadventure.com/everest-base-camp-helicopter-tour
Everest Chola Pass Trek:
The beautiful trekking journey includes the Chola pass while hiking toward the base camp. Chola pass is one of the adventurous peaks receipts of Nepal. The journey takes more than two weeks to complete. It is a thrilling and attractive trekking trail that leads you to the foot of Everest.
One should have trekking experience to attempt this trek. To complete this trek, you should have adequate body stamina and peace of mind; you can experience both the life of Solukhumbu and Everest on this trip. Winter and Monsoon should be avoided to trek through the Chola region as the temperature decreases up to minus 20 degrees Celsius.
Everest Panoroma Trek:
Everest Panorama can be a perfect hike for beginners who wants to experience the Everest Zone. The journey may last for ten days and take you to places with phenomenal views. The walk summons the beauty and tradition of Khumbu that can be known in a short time. Staying in the tea house is the most fantastic part of the journey. The major attraction of this hiking route is Lukla, Namche Bazar, Phakding, Monjo, and Tengboche.
This route does not take you to the base camp as it is a low-height trek. The trail goes through Sagarmatha National Park, starting from Lukla and crossing two river valleys- the Imja and the Dudh Koshi. Tourism in this region is relatively developed, and hence accommodation and food won't be any problem. You can have the beautiful view of tall and proud Mt. Everest supported by other peaks. Hiking in autumn is much more suitable than trekking in Everest Panorama Trek.
Note: If you have any problem with this article, contact the source provider here.