Technology
Top 20 ITIL Questions & Answers to Eliminate Odds in Job Interview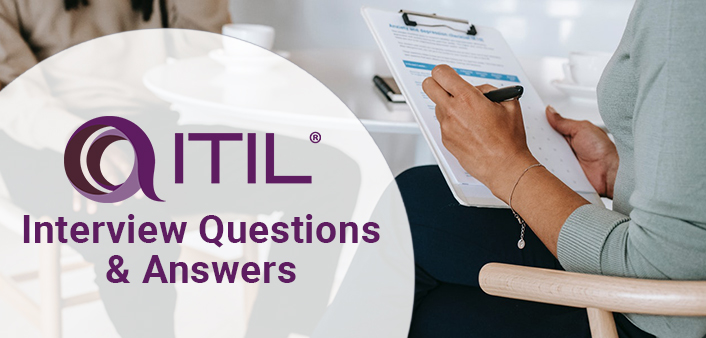 Working in the IT industry, you must be aware about the value ITIL holds and the lucrative opportunities which present themselves tocontenders havingITIL foundation and practitioner certification. Companies are on a constant lookout for professionals who can leverage the best practices of ITIL framework to enhance the performance of their IT Service Management.
In order to take advantage of these prospects, you need to first get familiar with the concepts of ITSM and should prepare for ITIL 4 foundation training New York. The learning roadmap is quite straightforward thereon. Choose your field of interest – ITIL Managing Professional or ITIL Strategic Leader, and then go on become ITIL Master.
As you kick start your journey as ITIL professional, first comes the job interview which you need to crack. Here are the eminent 50 ITIL interview questions & answers to help you as a fresher or experienced candidate to better prepare and bag that dream job.
Q1: Enlist the benefits of ITIL for companies.
Efficient alignment of IT with business objectives
Support for constant and abrupt business changes
Management of business risks and service disruption
Better utilization of resources, resulting in cost-effectiveness
Enhance customer relationship with focus on service delivery to attain customer satisfaction
Q2: What are the different stages of ITIL lifecycle?
Service Strategy – Designing plans/strategies for complete project cycle to be in synchronization with business's objective to derive value for customers
Service Design – Outlining services & additional components to be introduced in live environment
Service Transition – IT services are built & deployed while ensuring changes to service and service management process are coordinated
Service Operation – focus on making sure end-user expectations are met while managing costs and potential issues
Continual Service Improvement (CSI) – quality management by learning from previous instances and improving efficiency of IT processes & services
Q3: Define ITIL and elaborate on its features.
ITIL or Information Technology Infrastructure Library is a collation of guidelines and the best practices of IT Service Management, enabling companies to align services with objectives. ITIL helps professionals and companies to constantly delivery excellent IT services and gain competitive edge.
Some features of ITIL are:
Optimization of existing activities
Constant delivery of quality services
Core focus on IT
Collaboration of tasks, roles, and processes
Standard language and terminology
Get acquainted with these questions by taking ITIL certification course in Austin.
Q4: Ponder upon the working of Incident Management System.
Registering incidents
Categorizing incidents based on their impact and urgency
Authorizing the incident
Recovering from incident occurrence
Q5: Why is Incident Management important? (Objectives of Incident Management)
To efficient align incident management activities
To focus on customer & user satisfaction
To report & resolve incidents in IT services as they occur
To confirm application of approved & regulated practices for all processes, including response, analysis, management, and documentation
Q6: What processes are leveraged by the Service Desk?
Service Desk is the major point of contact between users and service provider. Users can register their concerns, queries, and requests at the service desk, and its success operation involves great customer satisfaction with skills like emotional intelligence and empathy.
Q7: Explain SLA and what are the different types?
Service Level Agreement, abbreviated as SLA, is commitment between the end-user and a service provider. There are 3 types of SLA:
Vendor SLA – between company and vendor
Internal SLA – between company and internal customer, could be department or other organization
Customer SLA – between company and external customer
Know more aboutITIL 4 foundation certification in Austinand practice ITIL mock exam to score better.
Q8: What is the goal of ITIL Problem Management?
Problem Management module focuses on following aspects:
Identifying and mitigating recurring incidents
Diagnosing root cause of recurring incidents
Preventing recurrence of incidents
Q9: What are the process steps in Problem Management?
Detecting the problem
Categorizing the problem and deciding priority
Investigating root cause
Finding solution to the problem
Initiating known error record
Resolving the problem
Closing the problem
Reviewing the problem
Q10. What are the 4P's of ITIL?
People
Processes
Products
Partners
Q11. Expound on Service Value System.
Service Value System entails different components and activities relevant to services management that are applied in coordination to generate value. It includes:
Guiding Principles
Governance
Service Value Chain
Practices
Continual Improvement
Opportunity/Demand
Being qualified with ITIL foundation and practitioner makes it easier for you to crack these interviews.
Q12: Which are the Guiding Principles for Service Value System?
Guiding Principles are designed to enable companies to make most of ITIL. These principles are applicable, irrespective of scenario, structure, management, type of work, goal, strategy, or objective. The seven Guiding Principles are:
Stay value focused
Start where you are
Progress repeatedly with feedback
Collaborate & promote visibility
Holistic thinking and working
Simplicity with practicality
Optimization & automation
Q13: Speaking of Service Value Chain, what is the objective of 'Design & Transition'?
The Design & Transition component of Service Value Chain is aimed at enabling the organization to ensure that services & products meet the quality levels, are cost-effective, and at par with the requirement standards of the stakeholders.
Q14: What is the importance of 'Engage' module in Service Value Chain?
Engaging in Service Value Chain is vital to understand the stakeholders, ensure transparency, maintain dialogue, and for building a commending relationship between the firm and stakeholder.
Q15: Which are the measuring parameters in IT Service Management?
Progress – to measure the advancing of current service operations
Compliance – to ensure services & operations are as per market standards and current processes
Effectiveness – to confirm the effectiveness of services is maintained
Efficiency – to maintain workflow and perform service maintenance
Q16: Elaborate on the role of Service Operation in ITIL.
Service Operation in ITIL evaluated the value of IT services. It helps to deliver & support IT services as per the satisfaction level of everyone involved the process. It acts as a point of contact (service desk) and detects services which are to be completed within the service catalogue.
Surge your chance of cracking ITIL interviews for a dream job by enrolling for online ITIL training in Boston.
Q17: What is a known error?         
A Known Error is an identified problem with root cause and solution. Its elements are:
Status
Error Description
Root Cause
Workaround
Q18: What is the purpose of Configuration Management in ITIL?
The purpose of Configuration Management is to receive, collect, manage, store, and verify data related to IT assets and configuration.
Q19: Enlist the objectives of IT Service Continuity Management.
Analysis of risks involved
Checking backing out situations
Finalizing a back out arrangement
Q20: How do you differentiate between a process and a project?
A process is continuous with no end date, while a project has a fixed a timespan.
If you wish to explore ITIL qualification roadmap elaborately, get yourself enrolled in ITIL certification course in Austinor takeonline ITIL training in Boston, and boost your career graph in terms of skillset as well as salary. One brownie tip though, as you take exams for different certification levels, make sure to practice using ITIL mock exam.
To further you career as an ITIL professional, check out ITIL certification course in Austin or online ITIL training in Boston and live a lavish life with higher salary.
Also check:
xposedmagazine info
nbastreams100
dien dan mau tam