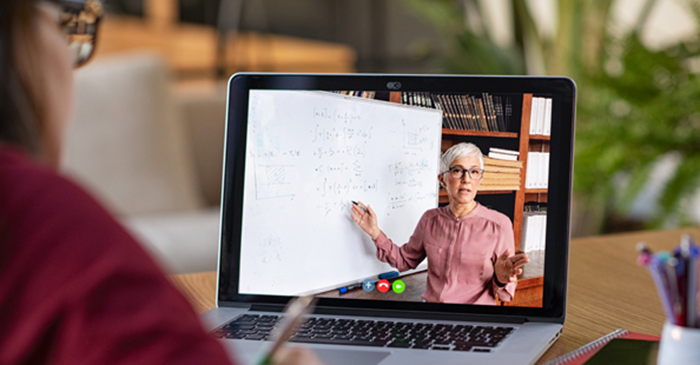 Teaching is the term used for the process of educating people either online or offline. Online teaching takes place via the internet and offline teaching is classroom teaching.
Various methods like group video calls, individual video calls, webinars, presentations, etc. are used for effective online teaching.
Recent times witnessed a surge in online teaching.
Factors like lockdown measures, strict COVID protocols, recession, decrease in employment, and Work from Home culture, have made online learning sparkling.
The use of interactive tools and techniques to deliver content and engage students has made online teaching much more effective.
There are several mobile apps available in the market that can be easily accessed from your smartphone. The best app to teach online is decided by the teachers, keeping in mind the level of each and every student.
Online Teaching Perks
One of the major challenges that the teachers face while teaching online is the surety of whether or not the student is still learning and how much the student is able to learn. Other than this a challenge arises to make sure the student is only concentrating on online learning and not other activities.
Some of the tips for effective online teaching are discussed below-
Quick response
Quick responses to student queries keep them engaged and not lose interest in online learning. Emails and prompt feedback on tests or assignments are the tactics to ensure your presence in the online classroom.
Informal communication
The key to reducing the student-teacher gap is communication. The more you converse with your students, the more likely you are able to understand each other. Apart from being strict, timely fun conversations can act as stress busters for the students. Therefore, make sure to converse in a friendly way with your students.
Allow the students to get into momentum
Let the students adapt to the changing learning methodology. Students should be able to access the lesson materials whenever needed. The students should be able to access assessment material, practice questions, recordings, or videos, replay live lessons, etc. Some of the mobile teacher apps have such inbuilt features.
Group activities
Group activities have mostly proven to be fun and much more productive as compared to individual activities. Conducting such online activities where the students can collaborate with each other leads to academic as well as social development. This also gives an idea of the student's perspective.
An effective medium
Online teaching provides an opportunity to deploy different kinds of media like animation, graphics, images, audio, video, games – to make learning much more fun and engaging. The use of different media makes the lesson interesting and classes can become more productive.
On-demand live meetings
Sometimes the online lectures can be a bit distracting due to technological errors. Therefore, real-time learning can be effective when discussions, problem-solving and interactions need to take place. Even the teachers can record their lectures and share them with the students so that learning continues beyond technological barriers.
Proper time management
Time management is one of the crucial factors to consider in online learning. The 24×7 access to online media can be both good practice and bad practice. Everything should be scheduled be it online lectures, discussions, student query response, email response, feedback, etc. Scheduling makes everything systematic.
Adult guidance
Online learning requires assistance especially in the case of students that are not tech-savvy. Classroom teaching has teachers to guide the students but when it comes to online teaching parents, teachers and professionals can provide effective guidance to the students. Tasks accomplished under effective guidance are more productive and enhance student engagement.
Be associated
Apart from engaging with teachers and other students, joining professional education communities can be fruitful for the students as well as the teachers. Such communities encourage course-oriented discussions like the topic explanation, problem-solving. Some of the best apps to teach online are loaded with such features where educators and students from different parts of the world can connect to each other and have a healthy discussion.
With the rise in work from home culture, online teaching is proving as an excellent opportunity. The flexible working methodology and the opportunity to interact with people across the world have contributed to attracting more and more people to online teaching.
The teachers shifting to online teaching are all putting their best efforts to update themselves with the latest technological trends.
They are the main contributors to deciding the best mobile teaching apps for online learning.
For more articles visit this website