Technology
What is RecMaster? Why do you need it to record your screen?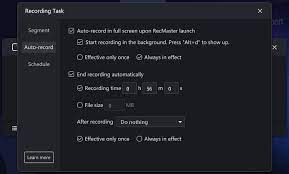 It is a recording software which is very popular recently. This software is often used by well-known social media practitioners to transfer knowledge to their audience. This is great software because it offers a wide range of powerful features packed in simplicity. Simplicity here means that everyone can operate it, regardless of their expertise background. In other words, RecMaster is easy to use!
Why RecMaster? Of course, there is always a reason for everything. There are several reasons why this software is so popular with social media marketers. We have seen two reasons above but they are too general. Here are some explanations why you should use RecMaster to record your computer screen instead of other recorders.
– RecMaster is compatible with Windows and Mac. Almost all computers circulating in the world today have Windows or Mac operating systems. That means it can be assumed that your computer supports the use of this software. You can download it from this link.
– External microphone capturing feature. The external microphone capturing feature makes the sound of your voice clearer than ever. Not only that, but RecMaster also offers a useful anti-noise feature to significantly reduce background noise. So if you're in noisy place, you don't have to worry because you can reduce that "natural noise" with RecMaster.
– Intuitive user interface. Once you launch the app, you'll find an intuitive interface, which catches the eye of anyone who sees it for the first time. The intuitive dashboard will help every user, especially amateurs who are trying to record a computer screen for the first time. Forget the complicated interface you've come across on recorders of this type because, with RecMaster, even the little ones will have no problem. On that dashboard you'll see a few simple options: Full screen recording Partial recording Recording for game mode Audio recording Recording with webcam Etc.
– Various kinds of interesting features As a popular screen recorder, it is inevitable that RecMaster has some interesting features.
They can be mentioned as follows:
* Various recording modes: RecMaster provides more than one recording mode (7 to be exact) and as a result, you can better tailor your recording to your situation and what you need. You can even record audio only, useful for recording audio files from a video for later use in your videos.
* Resolution reaching 4K MP4 format: With this resolution, your screen recording will look the same as the original version. There's no doubt about that.
* Various settings such as setting frame rate, quality, audio/video input, and many more. Please note that each time you finish recording, you will be taken directly to the editor. What if you want to record another moment? Take it easy because you can close the editor by saving the footage. You can combine multiple recordings into one timeline for later editing. So much fun right?
* Recording schedule: Worried you'll forget a certain event? Don't worry because RecMaster provides a recording scheduling feature. With this feature, you will never miss the event because the software will automatically record at a predetermined time (of course you have to know for sure the schedule of your favorite shows to be broadcast).
* Cursor movement and click sound effects: These two features will make your video tutorials look more interesting than the "original version."
– Affordable and flexible payment options Now we go to the "payments section." RecMaster offers a free trial version until you have to choose one of the 2 available options; annual plans and lifetime plans where you only need to pay once and it lasts forever. The trial version only gives you 2 minutes of recording time and you don't have anything to edit your recordings. The annual version costs around $19.95 but you can only use RecMaster on one PC. You are highly recommended to take the lifetime plan as you are only charged $29.95 and it is once in a lifetime.
Conclusion
It can be concluded that RecMaster is one of the best screen recorders ever made. With various conveniences and features provided, of course, RecMaster needs to be considered by anyone, especially those who are sensitive to the price factor. Are you now interested? You can get more information about RecMaster from its official website here.