SEO
6 Tools Managers Must Master in 2022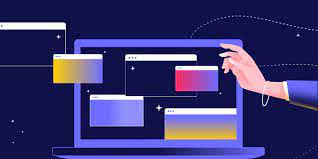 We already know what makes a good manager; it's time to answer what makes a manager great! 
In 2022, managers will lead an ever-growing fleet of remote teams with greater productivity expectations and new skills to master. As a manager who is constantly looked up to producing impressive numbers and keeping the team happy – how do you get better at your job? 
We referenced the Wharton School, the University of Pennsylvania, searching for this answer. In their exclusive coverage of top management skills in demand, we could derive a list of what managers expect. The list has been created with data from the U.S. Bureau of Labor Statistics.  
It includes:
Communication

Motivation

Strategic Thinking

Delegation

Emotional Intelligence
While you're on your journey to hone these skills, you can always use the help of software applications. 
We have hand-picked five expert tools that managers must master in 2022 to improve their career graph and deliver on expectations consistently. We are not claiming you should master all of these apps, but do try to improve your technical skills on the most pertinent ones. 
Follow along! 
1. ProofHub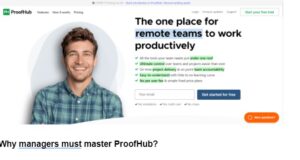 ProofHub is a project management and collaboration software that empowers managers to lead productive teams from anywhere in the world. Packed with team collaboration and communication features, it brings scattered work activities onto a single, manageable platform. Be it assigning tasks, tracking updates, or creating timesheets – ProofHub does it all.  
Why managers must master ProofHub?
If your role as a manager entails managing timelines, team performance, and clients, you must master ProofHub. Whether you are working remotely or from an office, you can stay in sync with your work and team.  
What shines in the tool is its ease of use. Managers need not struggle with time-consuming Excel sheets and cluttered email inboxes, and it offers a clean interface that works in real-time and is simple to navigate. Essential tools for work planning such as Calendars, Timesheets, Kanban Boards are beautifully bundled together in ProofHub. 
It goes one step ahead with in-built team chat and Slack-like discussion boards that make asynchronous collaboration quite effective. You can avoid frequent meetings and let your team work without distractions. 
Lastly, you'd not have to build reports manually anymore. ProofHub comes with one-click reports for workload, completed tasks, and presentation-ready time expenditure.   
Top Features of ProofHub 
Team Management –

track team tasks, projects, meetings, and files with full visibility on who is doing what. 

Communication Management –

let the team communicate effectively using 1:1 chat, topical discussion boards and never let any update be skipped without notice. 

Time Management –

check the total time being spent on tasks each week with the help of an in-built time tracker and features for compiling timesheets. 
Pricing
ProofHub is offered at a flat fee of $89 per month when billed annually.  
2. GanttPro
GanttPro is another SaaS tool that leverages Gantt Charts for project management. Using a visual interface allows managers to track team activities and project objectives such as costs, time, and resources. You can break down all your team tasks into Kanban boards that are easy to track and manage, enhancing visibility and sanity for complex projects.  
Why managers must master GanttPro?
Gantt Charts are a popular management tool for timelining projects. As a manager, you would want to learn how Gantt Charts operate, and GanttPro is a good starting point for that. It minimizes the mathematical aspects and lets you focus on the managerial part. 
The tool is quite helpful in managing deadlines and resources for projects. You can track each task right to the due date and ensure it's paced for timely completion. In business settings where deadlines can't be compromised, using a Gantt Chart can help managers be resourceful with allocated time.  
Top Features of GanttPro
Chart Views –

Organize your work into boards, lists, and timeline views for easy visual interpretation. 
Time Tracking –

track time spent on tasks and log work hours for each project. 

Collaboration –

let teams mark comments, attach files and view charts collaboratively. 
Pricing
GanttPro is charged at $8.90 per user per month when billed annually. 
3. Visme
Visme is a graphic design software tool used for creating quick mockups, presentations, and documents with an easy drag-and-drop interface. It offers several features for speeding up the design process with pre-made assets. Teams can collaboratively ideate over design elements and generate graphics quicker for marketing and presentation purposes. 
Why managers must master Visme?
Visme is a graphic design software tool used for creating quick mockups, presentations, and documents with an easy drag-and-drop interface. It offers several features for speeding up the design process with pre-made assets. Teams can collaboratively ideate over design elements and generate graphics quicker for marketing and presentation purposes. 
By getting familiar with Visme, you'd be able to lead creative teams better. You can deeply participate in the design process, provide constructive feedback and produce the desired productivity levels. If you're in a remote working role, generating significant design assets could pose a challenge. Therefore, get ahead in the process by signing up for Visme.  
Top Features of Visme
Multi-party Designs –

designers can collaborate with managers, executives, and clients to create exactly what's needed.

 
Asset Library –

access a large library of pre-made design assets for speedy design delivery. 

Vast Use-cases –

Visme covers everything from marketing collateral to data visualizations, serving a wide variety of use cases.  
Pricing 
Visme is charged at $24.75 per user per month when billed annually. 
4. Timecamp
Timecamp is a time tracking tool that enables teams to manage their time expenditure. It offers functionalities for recording time spent on team activities, client billables, and also marking employee attendance. With detailed reporting features, it helps managers be more aware of the team's overall time consumption. This improves productivity tracking and controls waste. 
Why managers must master Timecamp?
Being time-efficient is one of the essential requirements in any business environment. More often than not, this responsibility is pinned to the manager as they're in charge of ensuring that the team uses their allocated work hours to maximum benefit. Therefore, getting familiar with time tracking tools is quintessential for managers, and Timecamp is one leading contender. 
Moreover, employees actively maintain timesheets for their work hours in several corporate setups. These timesheets are compiled and analyzed for measuring employee productivity. The manager is always in the queue for checking, approving, and validating timesheets. 
Top Features of Timecamp 
Track Productivity –

check the net time utilization in your team to see how much of it is going into productive work. 
Detailed Reporting –

access a wide range of dashboards for analyzing time consumption and performance patterns. 

Employee Attendance –

mark employee attendance directly from Timecamp to keep a track of actual work hours. 
Pricing
Timecamp is charged at $10 per user per month when billed annually.  
5. Chanty
Chanty is a team communication tool that enables audio, chat, and video meetings. Built using a neat chat interface, it centralizes all your conversations in a single place. Remote teams can ensure seamless communication with contact books and task management. If you're working on a project that needs constant updates, Chanty is a tool to look out for. 
Why managers must master Chanty?
Chanty is one of the many tools teams use for communication today. The purpose is to improve touch with the team and help the group reduce conflicts. In any project, effectively presenting your ideas and holding meaningful meetings go a long way in ensuring success. As teams grow remote, managers must master the art of proper communication in dispersed team environments. 
Chanty makes this easier for managers by offering a quick tool for getting on a call or updating team members via text. Managers can ensure they follow up on time, and there are no communicative hurdles anywhere in the team. Managers must strive to create an unwavering team connection, and Chanty is a starting point for that.
Top Features of Chanty
Contact Books –

teams can create contact books keeping all the team member's contact details close at hand. 
Team Spaces –

create dedicated areas for sharing files, updates and tasks so that everyone stays informed.  

Task Management –

Kanban boards and list views for managing and assigning tasks to connected team members on Chanty. 
Pricing
Chanty is charged at $4 per user per month when billed annually.  
6. Engagebay 
Engagebay is a diverse sales and marketing tool for teams. The device is jam-packed with features for the four critical components of customer engagement – marketing, sales, CRM, and helpdesk. Teams can engage customers via calls, emails, contact databases, and chat, and it centralizes many activities that a customer-facing team would carry out in their workflow. 
Why managers must master Engagebay?
If you're managing a sales or marketing team, you must deeply understand the processes involved in these fields. Engagebay is a management tool that helps managers monitor and control how customer engagement cycles are running. To derive the desired level of sales performance, managers can get involved in how teams reach out to customers or solve queries, making them more productive. 
Top Features of Engagebay
Marketing Automation –

automate emails, calls, and contact management with rules and triggers. 
CRM –

manage customer histories and core data using an intuitive interface. 
Helpdesk –

resolve customer issues and queries with the help of support tickets enabled from a chat interface. 
Conclusion
Without the right tools, the art of management can't be fully excelled at. Managers are often viewed as the sculptors of positive team culture and exuberant team performance. While it comes down to their unique talents and management styles, they also need technical masters. 
Too much to ask from a person? Probably. But when you're in the company of intelligent tools, it's easier to flourish as a manager and help your team succeed.
Visit for more articles: forbesblog.org