Social Media
8 Questions to Ask Yourself Before Moving to a New City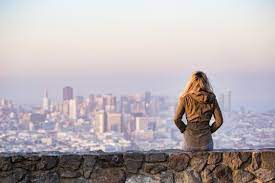 The thought of moving to a new city can be exciting and stressful at the same time. You'll have an opportunity to explore fresh surroundings and try new things. However, there are also costs to cover and a few factors to consider before hopping on the interstate highway.
What is my moving budget?
The first thing to consider before moving to a new state is your relocation budget. This budget is the total amount you need to transport yourself and your belongings to your new destination. It also includes the cost of settling there (finding a job, paying a housing deposit, etc.) if you're planning on moving to San Francisco or New York, this will cost you a lot more than living in Cincinnati or Kansas City.
Some expenses may not be immediately apparent. For example, when relocating to a new town, do you have a car that you can't sell or leave behind? Driving your vehicle over long distances can be tiring and costly. Thankfully, you can enlist a reliable shipper to ship a car from state to state for you.
When moving, ensure you have a budget you can stick to in place. Below are the steps for creating a simple moving budget.
Make a complete list of all the items you're taking with you
Determine the right professional mover to hire. The final choice depends on the moving fee, insurance, specialty items, etc.
Know where you're moving to and the right time of the year to move
Set money aside for your daily expenses, and remember to cut back on other costs to save money
As long as you save up enough money to prepare for the unexpected, your move should proceed without breaking the bank.
Should I hire professional movers?
Professional movers can help make your relocation easier and faster. These experts assist you with packing all your belongings, loading them, and delivering them safely to your new city.
But, can you afford to hire one? The answer depends on your moving budget and the distance of your new city. The cost of hiring a long-distance mover can range between $600 to $10,000 depending on the distance and the number of belongings.
Do I know anyone living in my new destination?
It takes time to acclimate to a new environment, and it's even harder when you have no one around to help ease the transition. Finding your footing socially alone in a new city will not be easy, but you must do it to feel at home.
If you don't feel right leaving your friends and your current social life behind, it may not be the right time to move.
Can I afford the cost of living there?
It's also vital that you know the cost of living in the new city before relocating. Ask yourself if you can afford to live there comfortably. That is, you can afford rent, basic needs, leisure and still manage to save some money every month.
To know if you can truly afford to live there, you may need to research the cost of housing, transportation, utility, healthcare, and food.
After determining these costs, compare them to your monthly earnings. Typically, you must earn more than average to live comfortably in expensive cities such as New York City.
Can I stand the weather there?
You need to be in a place where you can enjoy staying both indoors and outdoors. That's where the new city's climate comes into consideration. Do you want plenty of sunshine, or are you a winter person?
You must first know the weather patterns of a city you're considering moving to and determine if you're okay with it.
If you don't enjoy the snow, don't move to cities that receive a lot of snow in winter. The same formula should also apply to heat. Sweltering temperatures can be problematic if you're taking antidepressants or have sensitive skin.
Can I fit in with the new city's culture?
It's often advisable to settle in a place where you feel welcomed and at home. That said, the culture in a new state can be different from what you're familiar with. How would you cope with unfamiliar cultures?
Understand people's diversities regarding religion, race, ethnicity, and sexuality before relocating to a new town. The information you gather will help determine whether you can fit in with their ethos or not.
How is the job market there?
Whether you're relocating to start a new job or don't have one yet, it's essential to know the availability of employment opportunities in a new town.
How strong is the job market? See if the local companies are looking for people with your qualifications and experience. Remember, you must make a living to support your city life.
Will I be able to move around easily?
One major concern people have about moving to a new city is traffic and ease of transportation. The traffic can be unbearable sometimes, but still, you have to commute daily to earn a living and bond with new friends.
If you're always on the go, it may not be wise to move to a place where you'll be forced to spend several hours in traffic every day.
Parting shot
The above questions will help you make the best decision when moving into a new city. Whatever the reason for your move, embrace the opportunities and relationships in your new state.