Gadgets
Apple watch Bandsfor small wrist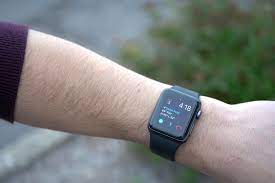 Are you thinking to yourself whether or not the Apple watch can fit small wrists? How people with small wrists choose Apple Watch size and if 44mm or 45mm will be too large? This article will help you decide what Apple watch size and introduce some Apple watch bands for small wrists.
Which size is better?
Wrist size guide
Apple watch bands for small wrist
1. Which size is better?
There were 38mm/40mm/42mm/44mm before the release of Apple Watch 7 and now Apple Watch 7 enjoys a new larger screen 41mm and 45mm. That means large screen is becoming a trend. Although small screen is more lightweight and flexible, a larger screen Apple Watch promises less swiping and scrolling, more text at a time and less chance of hitting the wrong app.
Worrying about if the 44mm/45mm fit you? Actually, the 44mm/45mm Apple on a small wrist can look and feel just as good as other sizes if you pick the right band. That's why it's important to measure the Apple Watch band length and find your perfect size.
2. Wrist size guide
Before clicking "buy now" for an Apple band, the primary and indispensable thing to do is checking the color and the size fit you. It can avoid resource waste from return and discard caused by a too tight or too loose Apple watch band. So you need to measure the inches or centimeters before pay and acknowledge your wrist size. Here is chart you can check your wrist size.
As you can see from the chart, the small wrist is under 6.0 inches, 15.2 centimeters for women and 6.75 inches, 17.1 centimeters for men. However, most of bands in the market are too large for small wrist and it is difficult to find a band for small wrist. If you have the same trouble, those bands below can definitely solve you problem!
3. Some apple watch bands for small wrist
Adepoy focused on Apple watch accessories for several years. Their mission is to help people express their fashion and fitness on wrist!
Adjustable sporty band. No matter how slim of your wrist, it fits even 2x-small wrist easily and there are 15 amazing colors. The optimal cloth Apple bands for small wrist to workout.
Adepoy Magnetic Mesh Band
The same with the nylon band, magnetic band can also be adjusted so no need to worried if it will fit your small wrists. It is elegant and fashion! The "MUST BUY" style for Apple owner!
Elastic scrunchies band is the best band for small wrist ladies. It is no buckle and because it is elastic, the band fits you perfectly. What's more, the small size is 119mm. It can fit the 2X small wrist!
The solo loop band is so comfortable and soft. The band is thin so you won't feel the band when you wear it! The smallest length of this band is 120mm which can fit 2X small wrist. One pieces style make it easy to put on and take off.
This silicone band is so classical that everyone owns Apple may have one. It also fit small wrist! check the size chart in our website. The smallest length is 130mm and the durable material promises a long life for the Apple band.
Adepoy Rugged Soft Silicone Band
This Apple band, a new style, fits men and cool girls. The smallest size can fit 5.7 inches for 38/40/41mm and 6 inches for 42/44/45mm. That means people with small size wrist can hold this one.
Except the scrunchies band, all of bands are unisex. Apple owner with a small wrist may need to have a set of them~For more information for those bands, Please visit the website, Adepoy.com!
Visit For More Articles on : forbesblog.org